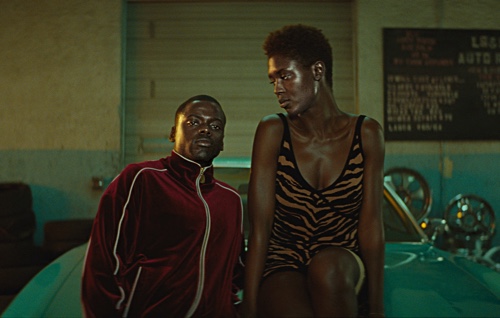 Queen & Slim (2019)
★★★ / ★★★★
Taking inspiration from real-life events of police shooting unarmed African-Americans across the country, Melina Matsoukas' debut picture "Queen & Slim" simmers with anger, but that is not what makes the work interesting. Instead of unleashing its fury, it allows the audience to witness and digest the injustices of racial profiling and murder. It is a powerful movie, certainly a sad one, that does not need to shout in order to highlight the importance of what it has to impart.
Unnamed man (henceforth "Slim" played by Daniel Kaluuya) and woman (Jodie Turner-Smith as "Queen") go on a blind date after meeting on Tinder. On their way home, they are stopped by a police officer who claims that Slim has failed to execute a turn signal and exhibited some erratic driving. While this is true, it is clear that the cop wishes to bust the black man for something, anything. Without a warrant, the racist cop rummages through the trunk. The situation quickly escalates which leads to Queen being shot in the leg. Out of self-defense, Slim grabs the gun from the officer and shoots him dead. The couple decide to flee Cleveland, Ohio.
The six-night manhunt for Queen & Slim is executed with specific vision. It is not interested in glorifying violence by showing elaborate chases, gunfights, and the like. It is, however, curious about getting to know the couple as complex people who come from vastly different backgrounds. For instance, extended dialogue is presented to us like flirtatious poetry as Queen, initially dismissive of Slim, learns to respect the young man she assumed to be just another brother who wished to get in her pants; Slim, meanwhile, begins to recognize a possible future with Queen. The movie is successful both as a crime drama and romance. The screenplay by Lena Waithe juggles both at the same time, never dropping one for the other at any moment.
The central couple is multidimensional, and so are the supporting characters—however brief we spend time with them. A few standouts include Queen's uncle (Bokeem Woodbine) who lives with prostitutes with surprising heart and insight about loneliness, a gas station attendant who does not blink once when a gun is pointed at his face, a teenager named Junior (Jahi Di'Allo Winston) who idolizes the outlaws, and the caucasian couple (Chloë Sevigny, Flea) who are aware of the bounty for Slim & Queen but decides to help them anyway. Each interaction is different because every single person encountered has a specific personality and perspective regarding what occurred in Ohio. Everybody has an understanding and appreciation of what has been going on between cops and black people across the country.
Comparisons to Arthur Penn's "Bonnie & Clyde" makes sense to an extent, but "Queen & Slim" is more modern and it possesses an identity of its own. There is something alluring in how Kaluuya and Turner-Smith are able to harness their chemistry, beginning from a place of awkwardness and distrust then eventually ending somewhere among loyalty, respect, and devotion. Their physical journey can be criticized for having one too many lucky breaks, but I believed their emotional journey completely. While I would have preferred a less blatant ending (which I do not think fits the overall tone of the film), I could find some justification why it was necessary.