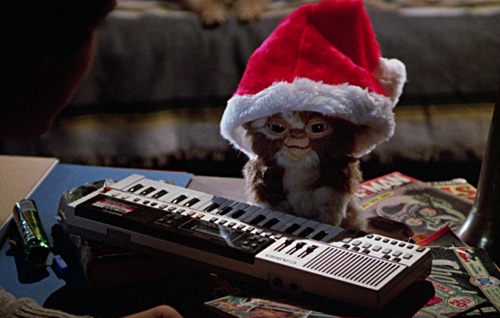 Gremlins (1984)
★ / ★★★★
The horror-comedy "Gremlins," written by Joe Dante and directed by Chris Columbus, is an excellent example of a movie so reliant on special and visual effects that substantive portions of the story are ignored altogether. It is a shame because it starts off with a curious premise: a teenager (Billy played by Zach Galligan) is given a mogwai by his inventor father (Hoyt Axton) as an early Christmas present. But, according to the Chinese shop owner where the cute, furry creature came from, three rules must be followed: do not expose it to bright light (especially sunlight), do not expose it to water, and do not feed it after midnight. Naturally, the rules must be broken so we see what happens next. Still, must it be so boring?
The movie is rated PG and so it is expected that children be exposed to this drivel and find it entertaining somehow. I find it insulting that the material belittles how smart children can be. I think intelligent kids would find it repetitive and preposterous because the filmmakers fail to offer a consistent sense of wonder. There is no central idea or concept that ties the movie together.
Sure, the mogwai is adorable with its big eyes, floppy ears, and how it is able to utter short phrases but… what else? After about thirty minutes of capturing our attention, the screenplay proves it has nothing of value to show or say. There are bits and pieces of characters making remarks regarding foreign items, tools, or appliances being inferior compared to American. What else is foreign? The mogwai. But this angle—which could have been interesting—lacks supporting details.
Speaking of lacking, there is a sweet, potential romantic connection between Billy and Kate (Phoebe Cates). Galligan and Cates share such solid and believable chemistry, their characters can sit together at a table and say nothing yet they would still be adorable. So, why aren't these two allowed to speak like actual teenagers who, by golly gee, may actually want to get to know one another a little better? Notice how their scenes almost always feel rushed. As it were a chore to have two humans share a whiff of intimate dialogue. Maybe it is easier to show puppets causing trouble (and murder) around town. Its priorities disgusted me.
It isn't like the mogwai in its final form looks that impressive. It looks cheap—the angry eyes, green skin, sharp teeth—and it moves like a robot. We're supposed to laugh, I guess, that the mogwai (which have multiplied at an alarming rate), have watched television and so they try to emulate what they've seen like hanging out in bars, smoking, getting drunk, gambling, and the like. And when it goes for the horror (read: lame jump scares), there is no sense of craft or suspense. It is all about delivering something ostentatious like someone getting stabbed, or bitten, or being thrown out of a window. These violent scenes are not even remotely darkly comic because to do so requires cleverness. And the movie is supposed to entertain children?
As I sunk into my chair racking my brain as to how "Gremlins" became a "classic," I realized how nostalgia is a hell of a drug. This movie is awful because it is simply a parade of midget scaly monsters causing chaos in a small town—comparable to a generic episode of "Goosebumps" which is actually more merciful because each episode is only about twenty minutes. This movie is nearly two hours. (It feels longer.) There is no story worth telling here, just filmmakers who needed to make money. It is clear their hearts weren't in it. And if the movie could be destroyed by sunlight, I say expose every copy because it is junk and deserves to be forgotten.