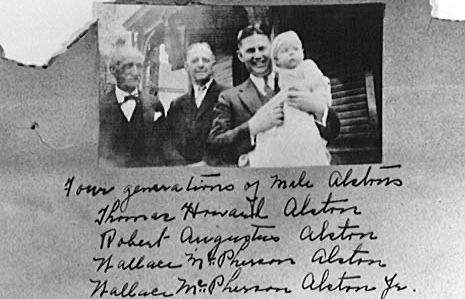 Family Name (1997)
★★★★ / ★★★★
Macky Alston, who is white, was sent by his father, a reverend and a civil rights activist, to an elementary school that was predominantly black. During his time there, Alston noticed a curious detail: many of his black schoolmates shared his last name. Alston, now an adult, goes on a mission to answer why this is—and it is directly related to his ancestors having owned slaves in North Carolina. "Family Name" is a fascinating and revealing documentary. Initially, it is about answering one person's questions regarding his lineage, but eventually it evolves into an investigation of secrets, memories, and longings that have been brushed under the rug.
Its best moments involve the writer-director asking challenging questions to those who agreed to be interviewed. Black people of various backgrounds and age groups are asked probing questions whether they still feel angry about slavery; how they feel when they walk around plantations where black people were abused, raped, given as gifts; how their lives have been shaped or impacted by having known someone—a great-grandfather, a great-grandmother—who was a slave. Words do not reveal all. For example, Alston's grandmother provides answers we can hear, but she also gives out answers we can only see. Look closely at the body language when some of the more pointed or surprising questions are brought up.
And then Alston turns his camera on his father. The reverend recalls a specific experience when he was in the Navy that completely changed his thinking, attitude, and treatment toward African-Americans. He used to be racist. But since then he dedicated his life to lift up his community—and making sure that black people get equal rights as whites. Laidback and gentle, it was a struggle for me to picture him before he decided to turn things around. But then he goes on to explain his family background, how he was raised, and what was considered to be acceptable thoughts and behavior when he was growing up in a bubble of an all-white community.
It is interesting that the filmmaker decided to include his thoughts about the project as a whole the deeper he gets into his investigation. He admits that there are times when even he doesn't know where the film is ultimately heading, that his goal is constantly changing—that maybe it is going this way because he fails to have a complete grasp of the subjects and people he's exploring. Perhaps his limitation is a result of the divide between cultures and time. He acknowledges his white privilege (without using the exact phrase) and the possibility of that serving as a filter. I found the inclusion of his thoughts to be appropriate because the documentary is first and foremost a personal story.
In the opening lines, Alston reveals to us that he has always felt like the black sheep of the family. He is gay and so he understands that certain things are better off not talked about, swept under the rug like one's ancestors being one of the largest, if not the largest, slave owners in North Carolina. In his quest, we learn about Alston's motivations as a white man, as a gay man, and, most importantly, as a journalist whose job is to get the facts and report them. This documentary goes through obituaries, gravestones, census data, family photos, books, and random folders that haven't been opened for years. It is a small picture, one that takes its time, but its scope is impressive.
"Family Name" is one of those movies that I'm glad exists. It may not be visually polished and the sound can use a bit of sharpening at times, but I was riveted by it nonetheless. I admired that its goal does not involve changing anyone's minds. It simply stands by the fact that the truth exists, should one bother to look (and listen), and it is up to us to do what we please with it: embrace it, fight it, sweep it under the rug and hope that we forget. In life, that's just how it is.