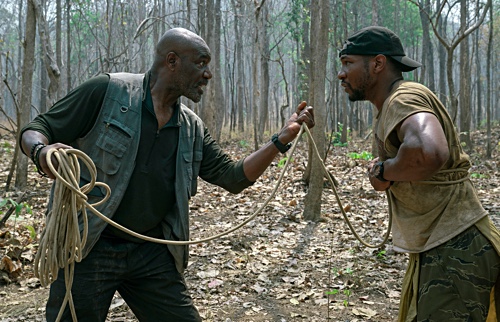 Da 5 Bloods (2020)
★★★★ / ★★★★
The kind of movies I look for are the ones that inspire my being to pause somewhere amidst the curious happenings and force me to think, "Spielberg made this," "Tarantino made this," or "Herzog made this." In the middle of this purposeful, angry, at times moving and educational picture, I couldn't help but think, "Spike Lee was the only person who could have made this" because the work possesses so much flavor and personality, the experience leaps out of the screen to slap us and shake us; it is alive, humorous, tragic, ironic, and timely.
It goes beyond politics. There are jabs against Donald Trump, his presidency, and his racist remarks (and actions) against African-Americans and other minorities, but the screenplay by Lee, Danny Bilson, Paul De Neo, and Kevin Willmott is correct to treat it as a symptom of the malignant tumor that has been wreaking havoc within the veins of US of A since its inception. The plot revolves around four Vietnam war veterans who return to the country that, for better or worse, have shaped who they are. They wish to retrieve a case full of gold. But this being a Spike Lee Joint, this shiny thing is metaphor: of ghosts, of corrupted souls, of what has been stolen or denied by a country that used, abused, and sold slaves so it could become what it is—a world leader, a superpower, a bully, a mess… yet somehow still regarded as an ideal by most nations. It is a story, too, about contradiction and hypocrisy.
But foremost: it is a story about forgiveness. It doesn't seem at that way even already an hour into the picture. I admired that about it. Spanning about a hundred and fifty minutes, it takes its time to allow the pieces to fall into place. It invites us to look beyond the action and consider our world. It implores us to really look at it, to ask ourselves if we're proud of it, if we feel comfortable for children to live and thrive in it. So many mainstream movies these days, many of which are forgettable, settle for shallow entertainment. Nothing at all to say about the world around us, our history, where we're heading. As it has always been with Lee: To be political, to voice out injustice, to act as a megaphone is entertainment. He doesn't want us to turn off our brains; he wants us to turn it on, to push it, to challenge the system of oppression.
We meet Eddie the businessman who exudes success (Norm Lewis), Otis who left someone important in Vietnam (Clarke Peters), Melvin the conscience and pragmatist (Isiah Whitlock Jr.), and Paul the wild card (Delroy Lindo). We hang out with these men as they laugh, drink, and reminisce. The writer-director shows them looking at the Vietnamese and the Vietnamese looking at them. The camera pinpoints skin color, physical stature, hair, voice, how a person carries himself or herself within a defined space. It is an observant picture, certainly daring and willing to ignite fierce discussion. There is not one shot that comes across as a waste.
But how can there be forgiveness, healing, when so much injustice and anger remain? The film does not provide answers, but it presents a microcosm in the form of Paul mourning over a dear friend—someone he looks up to, one whom he considers to be a brother—whose name was Stormin' Norman (Chadwick Boseman). Notice the technique used during its flashbacks: Norman is shown as an ideal. A case can be made that we never truly get to know him as he was, only in the mind of Paul—the man whose body got to go home to America but whose soul remained in Vietnam alongside the corpse of his friend. Paul is such a shell, he finds he is incapable of loving his own son (Jonathan Majors). David looks at his father and he seems lost. They are tethered only by genetics. It is a sad sight to see and feel. Wonderfully performed by Lindo, Paul is one of the most memorable characters I've come across in recent memory.
Does the movie provide catharsis? Yes and no. There is catharsis on screen which involves shootouts, deaths (black, white, American, Vietnamese, French), and tying up loose ends by showing signed checks, hugging, solidarity, and people shouting "Black Lives Matter!" Perhaps I don't feel there is true catharsis because I am a person of color in America. That when I go to the Midwest, for example, I am not seen as an American but The Other. A second-class citizen. But sometimes it is enough that a film takes a shovel, dig deep, and further expose what has long been dormant. Or at the very least serving as reminder of what we have yet to work on.