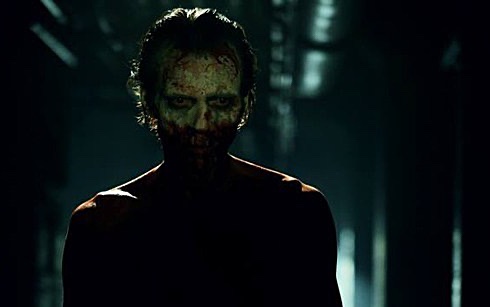 31 (2016)
★ / ★★★★
In the middle of this interminable and pointless exercise that writer-director Rob Zombie considers to be a movie, I couldn't help but wonder why the filmmaker felt compelled to make it. Yes, it's gory and ugly, but it isn't like "31" strives to push to genre in any direction. It simply wallows in its own misery like a rotten thing, a sad sight and a real stinker. You're better off losing brain cells by holding your breath for an extended amount of time than having to sit through this picture. At least holding your breath takes less than a minute. This one demands nearly two hours. You could've gone to the gym during that time and felt good about yourself. This movie strives to make you feel bad.
The setup is as formulaic as it gets: carnival workers (Sheri Moon Zombie, Jeff Daniel Phillips, Meg Foster, to name a few) are kidnapped, taken into an abandoned building, and forced to participate in a sick game. A voice via loudspeakers claims that whoever manages to survive for 12 hours, this person, or persons, will be free to go. Within this time span, however, clowns of various shape and sizes (with quirky names like Death-Head, Sex-Head, Schizo-Head, Psycho Head, and the like—no Meth-Head, sadly) will enter the facility and try to murder them. Meanwhile, behind the scenes, old people dressed in aristocratic clothes (Malcolm McDowell, Jane Carr, Judy Neeson) place bets on who, if any, will make it to the end.
If it sounds like it's trying way too hard, that's because it is. Perhaps even the writer-director, consciously or subconsciously, is aware of the wafer-thin material. And so he decides to fill it up with splashes of color, loud noises, wild costumes, and a whole lot of shaking the camera. It becomes so desperate that at one point—as if shaking the camera weren't enough—we are inundated with seizure-inducing flashing lights. I guess people who are prone to epileptic fits are the lucky ones in this grim scenario because they will be compelled to shut off the movie.
There are no characters here, just sheep to be slaughtered. The story takes place on Halloween 1976; the dialogue is so cartoonish—the southern accents, its portrayal of African-Americans, of blonde women/objects—that it is borderline parody. Again, because the screenplay offers no substance, it relies on exaggeration to mask the fact. Not only is it a one-trick pony on screen, it is also a dead horse on the page. Perhaps the writer-director believes it is enough to have something—anything—on film, like a twenty-page essay written the night before that's completely devoid of insight, sense, and spell checker.
In the opening sequence that shows the gruesome murder of a priest, we come to meet Doom-Head played by Richard Brake. His monologues are a bit much, more comic than horrific, but I liked his energy; he is the most believable out of all the psychos introduced. However, since he makes an appearance in the very first scene, we already know the trajectory—there is no end in sight until the sheep face this wolf in clown-face. And so the movie becomes waiting game.
"31" is without nutritional value or a point. "Here's what I can do!" is not a good enough reason to make a film—not in this day and age when so many movies are being released in theaters and streaming services per week. It's survival of the fittest out there. Ironically, this movie would be one of the first to drop dead, be forgotten. It's that inconsequential.