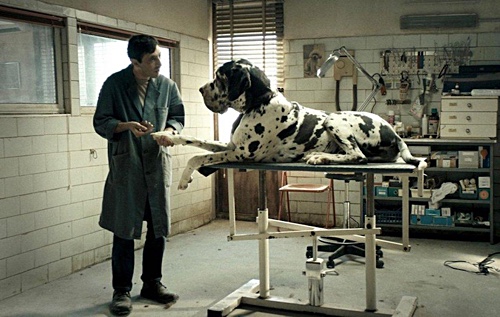 Dogman (2018)
★★★ / ★★★★
Matteo Garrone's enthralling "Dogman" tells the story of a man who runs a dog grooming shop located in a poor suburb in Rome. His name is Marcello (Marcello Fonte) and he is one of the most well-liked man in the neighborhood due his mind-mannered personality and appearance. But Marcello runs a side business of selling cocaine in order to afford mini-vacations with his daughter, Alida (Alida Baldari Calabria), who lives with her mother.
This attracts the attention of cocaine addict and brutish Simoné (Edoardo Pesce), quite possibly the most disliked man in the neighborhood—so much so that Marcello has heard fellow shopkeepers conspiring to hire men from out of town to kill Simoné. Reporting Simoné's illicit activities to the police is no longer an option because he would simply go to jail for a few months and he'd be back in the streets. A more… permanent solution is preferred.
Told with admirable focus and clarity, this character-driven drama inspires the viewer to look closely at the subjects from a humanist perspective. It is interesting that although it is composed of elements most often found in suspense-thrillers—the put upon mousy man, the desperation of his lifestyle on top his impoverished neighborhood, the thought that perhaps it is time for others to begin respecting him for all the things he feels he has done for so-called friends—the material never goes for the easy catharsis. As the subject matter begins to move toward even darker territory, it builds and builds until the tension is so high, it feels as though every small happening could force the dam to break.
The work begins with a keen eye for characterization. Notice that in the first five minutes, it appears as though we are simply following Marcello's day-to-day activities: at work, out in the field playing football with the guys, at home while eating dinner with his dog. But look more carefully. There is emphasis on Marcello's body size. He is small compared to the dogs he grooms, small next to the men attempting to get the ball from him, small still next to his very own normal-sized dog. In every aspect of this man's life, we see and we feel as though he is small. He knows it. And so he compensates by being friendly and likable. People regarding him as something else other than small is so important to Marcello. This is the core of the story.
It is not a revenge picture or a crime picture; to categorize it as such is, I think, to reduce what the movie is truly about. In its essence, it is a drama with deep thoughts, longings, and humanity. Fonte plays the Marcello with a powerful magnetism. At times he reminded me of Steve Buscemi without the comic quirks. You cannot help but look at him—and then through him. Credit goes to screenwriters Ugo Chiti, Massimo Gaudioso, and director Garrone for giving us a character who possesses many layers. There is even a distinct sadness, maybe a loneliness, to Marcello that he is not above wanting to be liked by Simoné the bully. Fonte and Pesce share excellent chemistry especially when the two are together in one frame. Simoné is so big that I flinched at the thought of our protagonist being so close to a hot-tempered man of that physicality. All it would take is one punch thrown by Simoné to take Marcello's head off.
"Dogman" is unconcerned when it comes to providing a typical character arc which may likely put off others—but that is exactly what I appreciated most. As a result, the protagonist feels fresh in that his actions are often unpredictable, at times questionable—like an actual person trying to survive in an impoverished community. I wished that we saw more of the seaside village because the intention is for the environment to have critical role in how the main character regards himself, but almost every other element is so strong, it is without question the film deserves to be seen by those yearning for something different and worthwhile.