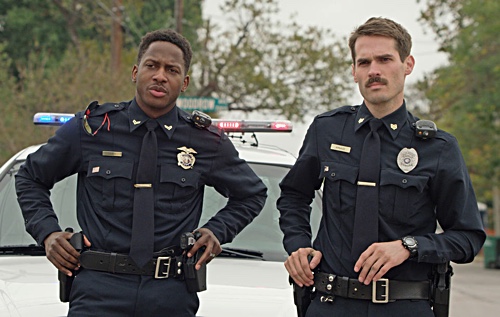 Thunder Road (2018)
★★★★ / ★★★★
Jim Cummings writes, directs, and acts in "Thunder Road," a comedy walking a tightrope. It tells the story of a cop named Jim whose mother has just passed away. We meet him making a speech about her, like her passion for dancing and her love for Bruce Springsteen, but the longer he speaks it becomes all the more apparent that much of what he says is actually about himself. In the middle of his wild performance, we wonder if there is something seriously wrong with the man. Is this his own way of grieving? Is this actually his personality? Is he on drugs? The speech culminates when he dances—without music since the CD player died—right in front of his mother's coffin. It is from this moment that it is crystal clear: The work is going to be a minefield of comic-cringe moments. I loved nearly every second of it.
But the opening scene does not hint at the depth the movie is about to dive into. Sure, it gives us a quick portrait of a ridiculous person who may or may not have deep psychological issues. But Jim is actually a good man, well-meaning, and a dedicated father to his young daughter (Kendal Farr). It's just that there is often a disconnect between his thoughts and what comes out of his mouth. He has anger issues. The entire film is composed to seeing Jim being presented with a problem, how he reacts to it initially, and how deals with it sooner or later. It is riotously funny and yet at times it becomes surprisingly moving at a drop of a hat.
Here is a work that embraces a type of comedy that is incredibly difficult to pull off. When done wrong, even just remotely wrong, I am able to detect its stench with ease. Here is a dark tragi-comedy done right. It is unafraid to place the subject under a microscope so we can note his flaws and redeeming qualities; so we can relate and empathize; so we can appreciate why he thinks the way he does and behave the way he does. There is no flashback to childhood or any of the easy tropes. There is only a determined march forward filled with mistakes, regrets, and redemption. Cummings has tapped onto something here which makes me look forward to what else he has yet to offer as an actor, writer, and director.
We also come to meet others within Jim's outer circle—because his inner circle doesn't exist. There is Crystal, a fourth-grader who does not appear to enjoy spending time with her father. She is not at all receptive to her father's efforts. We meet a possible sixteen-year-old version of her (Jacqueline Doke)—or what Jim thinks, in his own mental gymnastics, of Crystal's eventual future should Jim not continue to be a strong presence in his daughter's life. Another important person in Jim's life is his wife Roz (Jocelyn DeBoer). Jim and Roz have been living apart (Roz has a new beau). Every encounter they have is ugly and unpleasant—but not without well-observed humor; we believe that these two have tried and failed to have a life together. Now, they just cannot stand one another—even for the sake of their own child.
Perhaps most interesting, however, one who sort of qualifies as Jim's best friend is fellow cop Nate (Nican Robinson). To reveal details about their friendship would do the film a disservice. But there is a beautiful, quiet moment when Nate simply looks at his friend, who is currently going through the biggest challenges of his life, and recognizes his value with complete clarity. The camera holds still, unblinking, patient. Unlike every other scene, there is no joke. Just an honest personal moment of one human being loving another because that's just how it should be.