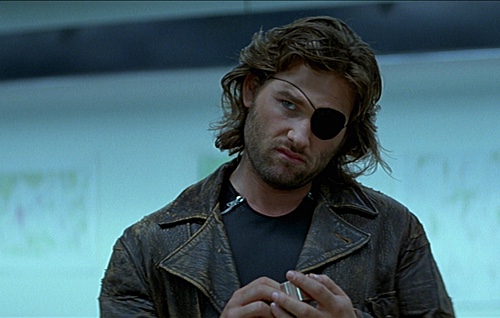 Escape from New York (1981)
★★★ / ★★★★
On the surface, John Carpenter's "Escape from New York" is an action film. It does, after all, involve a plot to rescue the president (Donald Pleasance) after Air Force One crashed in Manhattan, now a maximum security prison following a 400% increase of crime in the country. But as one experiences it, it is not so much an action picture—at least not a typical one. I found it to be a mood piece, an exercise of creativity by a filmmaker given a very limited budget whose goal is to entertain by inspiring us to look inside the world he and his team created instead of simply accepting busy movements and loud noises.
The solemn and desolate skylines and landscapes of Manhattan puts us into a headspace that this version of the future, set in 1997, is cruel and militaristic. For a dystopian film released in 1981, it looks terrific. Every location we visit, whether it be atop the World Trade Center or in the streets where starved denizens—starved of food, human interaction, freedom—crawl out of the sewers with rats, there is something special to be seen and appreciated. Couple these intoxicating images with well-placed and well-made synth music, we become increasingly excited for the mission to evolve. We look forward to the next scene's surprises, the next batch of colorful personalities our central protagonist may clash against.
Our eye-patched hero—some might say anti-hero—is Snake Plissken and he is played with suave by Kurt Russell. Less capable performers may have relied on the eye patch to create a personality, but Russell portrays the character as though the accessory isn't even there. Snake is confident and knows what he wants and so from the moment we come across this memorable character, we have a feeling about his history outside of his reputation among lawmen and criminals. I enjoyed that Snake taking on the task of rescuing the president is not driven by a sense of duty for his country but self-preservation. Police Commissioner Bob Hauk (Lee Van Cleef), in charge of the rescue mission, offers a deal: Should Snake succeed at rescuing the president, all of his crime records would be wiped clean.
But to ensure that Hauk would get his way: Snake is injected with particles that would rupture his arteries should he fail to deliver the man within a time limit. Carpenter and Nick Castle's screenplay often works like this. Even the criminals we meet in Manhattan, particularly the ones who end up helping Snake for reasons of their own, are given dimension. Everybody is out for themselves and yet they are willing to bend rules—at times their personal codes—in order to get that much further in attaining their goals. This is far more interesting than presenting yet another ballet of bullets in which the straight-faced hero triumphs with ease or barely escapes.
Nuance is what separates "Escape from New York" from other sci-fi action pictures. We may not have the strongest, smartest, or most heroic protagonist but we get a real sense of his place in this particular dystopian universe. Should he succeed or fail in his mission, notice it doesn't really matter. Or at least it didn't matter to me. It was enough that I got to see and experience Carpenter's vision of world where criminals are hidden away to rot instead of rehabilitated. (Perhaps we are at that point now?) There is one line early in the film that stuck with me. Prisoners about to be sent to Manhattan are given a choice to self-terminate and be cremated should they not want to be confined for life. I caught myself thinking I probably would have taken on the offer. Happily. Because what is life without freedom?