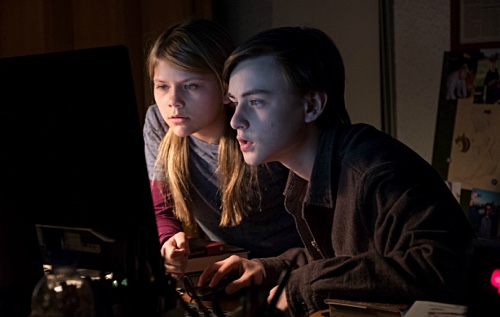 The Lodge (2019)
★★ / ★★★★
Severin Fiala and Veronika Franz' "The Lodge" is an excellent example of a movie so reliant on a third act twist that if one were observant enough to see through the fog and recognize red herrings—which isn't difficult to do—the rest becomes a waiting game. I appreciated the intent: the goal is to tell a story, through the lens of psychological horror, about unresolved trauma and how it can ruin new chapters of its hosts' lives even before they begin. In order for this to work, however, the screenplay must function both as a drama and a horror picture. It fails to excel in either category which leaves us an experience that is, for the most part, a slog to sit through.
It lays out the pieces in a clear and precise manner. Aidan (Jaeden Martell) and Mia (Lia McHugh) are still in mourning due to the death of their mother (Alicia Silverstone). She had committed suicide after receiving news that her husband, Richard (Richard Armitage), wishes to marry his girlfriend, Grace (Riley Keough), former member and sole survivor of a Christian cult that committed mass suicide. Already there are parallel details worth noting. Six months after the mother's death, and just in time for Christmas (of course), the siblings and their soon-to-be stepmother will spend time in a remote winter cabin in order to get to know one another better. (Richard has to leave for a couple of days due to work.) The children despise the new woman in their lives because they blame her for their mother's death, and the girlfriend is… a bit off even though she is willing to try to make it work between her and the kids.
As the material busies itself with presenting pieces of the puzzle that will prove to be relevant later, I felt no drama emanating from the material. Sure, it's sad that Aidan and Mia must learn to live without their mother, but the work fails to provide reasons why these two are interesting together or apart. They are not only given so little dialogue, they are left with little to do. I felt as though their anger is superficial and so when Aidan and/or Mia lash out at Grace, in subtle or overt manner, the whole thing comes across like a performance. The notes of action and reaction are present but not the music, if you will.
The same applies to Grace. For a woman who has endured so much physically and psychologically, this survivor is rather bland. Is she meant to be a shell of a person? It is not enough to show one online article of a terrible cult; we must have an appreciation of this particular group through the perspective of the one who lived to tell the tale. (Richard wrote a book about her experiences.) Keough attempts to wring out every drop of emotion in each scene—which is admirable—but I never believed the history of her character. We're supposed to buy into it, I guess, because she's a pill popper. By the third trip to the bedroom drawer because she finds it so stressful to interact with her future stepchildren, I couldn't help but chuckle a bit—not because it is funny but because it is offensively reductive. What does Richard see in her?
Expect no scares; the approach is a slow descent to madness. Expect long takes. Expect plenty of shots of creepy portraits, ugly dolls, and large crucifixes. Expect silence, dim lighting, minimal score. A whole lot of snow. And shivering. Oh, John Carpenter's "The Thing" is on TV at one point. It made me wish I were watching that terrific, exciting, horrifying movie instead.
Eventually, we are meant to question what's real and isn't, who to trust and who to suspect; what is happening and to whom. I was able to predict every step, but I enjoyed the snowy milieu and the feelings of isolation it invokes. The work is so atmospheric but little else to offer. At least it has the courage to end on a dark note. But even then I still felt there is no powerful punchline. Of course it had to happen; trauma and history repeating itself and all that.