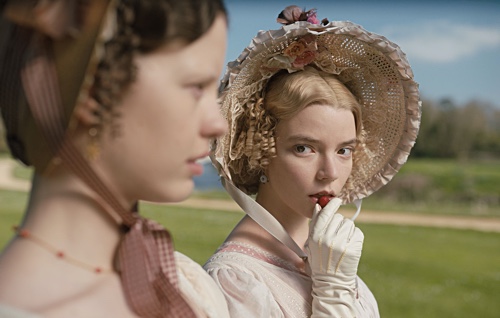 Emma. (2020)
★★★ / ★★★★
Despite being completely ignorant of Jane Austen's 1815 novel of the same name, I had some idea of what I was in for due to the Austen brand: British high society, colorful and detailed clothing, beautiful estates and stunning outdoors, delectable food and expensive silverwares, posh dialogue that will bore most to tears. But something I did not expect: a titular character so unlikable, I likened her, at least initially, to a snake slithering in tall grass—always on the lookout for her next romantic project because she considers herself to have a such green thumb when it comes to matchmaking. In reality, she is terrible at it; not only are her chosen pairings devoid of chemistry, the futures we imagine for them is bleak and miserable.
Clearly, the work is a satire of class. From the opening frame it appears hyperbole is in its marrow as we follow the young and wealthy Emma Woodhouse (Anya Taylor-Joy) sniffing flowers in the greenhouse while accompanied by help holding some sort of lantern—in broad daylight. This picture is peppered with so many quirky details that at some point I had to wonder if such elements were simply meant for laughs or if these were in fact accurate depictions of lifestyles at the time. In either case, I found entertainment and engagement in what is shown on screen; the direction by Autumn de Wilde is energetic, the script is witty, and there is terrific timing in the execution of the jokes—visual, aural, and what is simply felt given what we come to know about the characters and what they don't know about one another.
The first half is an orchestra of Emma's vanity and sheer ignorance of romance and romantic feelings—there is a difference—when she herself has never been in love and has declared never planning to marry. Taylor-Joy plays Emma with a certain slyness, an intelligence far beyond the character's age and experience, and so I felt compelled to catch up to her and try to figure out her long-term goals when it comes to lovebirds she's cramming into a cage.
Her arrogance is disgusting at times, especially when she looks down on the people whom she considers to be lower than her, whether it be in terms of money, reputation, education, or biology. (She is especially disapproving of the farmer that her most recent project, Harriet [Mia Goth], has her eyes on.) Despite Emma's bad behavior, those within and outside of her social circle still feel obligated to look up to her, trust her, respect her. I think there is honesty in that depiction of the character. The privileged tend to get away with a whole lot.
Given she is our heroine, it would have been far too easy to overlook or excuse Emma's wrongdoings after just one incident that blows up in her face. No, the screenplay by Eleanor Catton is correct to give the audience plenty of time to watch Emma feeling like—and realizing—the rotten person she has become (no matter how well-intentioned she is at times). Catharsis comes in the form us seeing the character we wish to root for finally realizing the errors of her ways. It does not depend on whether or not she finds a man to fall in love with (Johnny Flynn, Callum Turner)—although this subplot is present and possesses some level of predictability.
I think those who dive into the film with an open mind will find themselves surprised at some point. "Emma." is not a tight-lipped, straight-faced, deoxygenated period comedy-drama. There is a risk-taking modernity in how Austen's progressive source material is translated on screen. Choose to look beyond the heavy clothes, palatial homes, and how people speak. You'll recognize a number of the things we still struggle with, individually and as a society, two centuries later. Only in this and age toxic influence is amplified by social media.