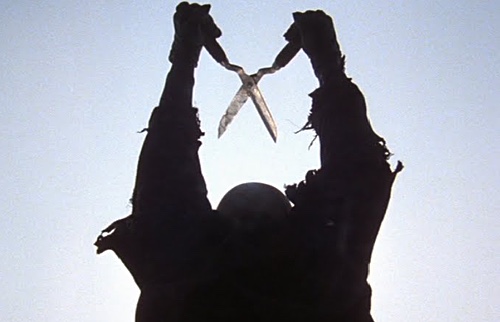 The Burning (1981)
★ / ★★★★
Clearly influenced by Sean S. Cunningham's "Friday the 13th," "The Burning," too, takes place in a lakeside summer camp where a deranged masked killer slaughters hormonal teenagers one by one until a most predictable final chase scene in the dark—one last "Gotcha!" moment included. So it immediately begs the question: Does this film, penned by Bob Weinstein and Peter Lawrence, have something new or exciting to bring to the party? No, it does not. It is uninspired and underachieving for the most part… yet I did not find it to be completely worthless.
I found this picture capable of rivaling Robert Hiltzik's "Sleepaway Camp" when it comes to establishing a convincing camp setting. Young people are all over the place; there is almost always something happening in the background or on the side of the screen. Even posters on walls, magazines on desks, snacks and knickknacks on shelves are eye-catching.
Notice that during the first half, time is taken to introduce the main players: The mature and kindly camp counselors Todd and Michelle (Brian Matthews, Leah Ayres) who clash at times in terms of how to handle their charges when they misbehave; the bully Glazer (Larry Joshua) and his constant target of ridicule Alfred (Brian Backer); Alfred's energetic bunkmates (Jason Alexander, Ned Eisenberg, J.R. McKechnie) who see Glazer more as a big lug instead of a tormentor (they are not afraid to fight back); and various girls who swoon every time a boy pays them the most modicum amount of attention. There is a sense of joy in simply watching these characters be while in summer camp. There were moments when I thought the material could work as a comedy.
However, the handling of the killer is completely wrong. His name is Cropsy (Lou David), once the caretaker of a neighboring camp, Camp Blackfoot, whose body is so badly burnt due to a prank gone wrong that it took him five years to recuperate in the hospital. Skin grafts did not take. This figure is supposed to be so angry, so thirsty for revenge that a prostitute, who had nothing at all to do with the prank, triggers him, not yet an hour into his release, to impale her with a set of garden shears in cold blood. We hear urban legends about Cropsy and how evil he was even before being barbecued. But not once do we get to really feel this monster's mean streak, his wickedness. He has a mask but without a personality.
Strange, too, is the fact that we rarely get a chance to have a good look at him. Watch closely: Director Tony Maylam has a curious habit of putting us in the perspective of the killer, hiding real low in the bushes like an animal. However, it is apparent that Maylam roots for the young characters to make it and so allowing the viewers to see the action—even the murders themselves—from the killer's eyes is completely inappropriate. I felt an awkwardness, a disconnect, a lack of a defined vision. It might have been the better choice to show the antagonist—full-bodied—from time to time no matter how ridiculous he looked. Confidence goes a long way while insecurity is blinding.
I enjoyed the make-up effects by Tom Savini. Particularly memorable is the raft scene when Cropsy attacks and disposes of five teenagers within seconds: throats are slashed, fingers are cut off, a number of them impaled. It is violent, shocking, well-edited, and the convincing practical effects amplify the horror. If only the rest of the material functioned on this level.