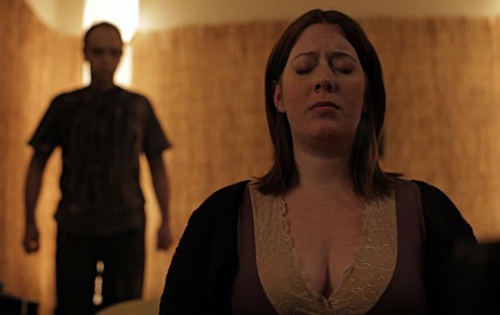 Absentia (2011)
★★★★ / ★★★★
Writer-director Mike Flanagan's debut feature film proves that showing the monster completely is not necessary to construct an effective horror film. Instead, he drowns the viewer in tense and portentous atmosphere, creepy folklores, and genuine humanity. Only ten minutes into the picture—opening credits included—already we are presented with an emotional hook: Tricia (Courtney Bell) confesses to her younger sister, Callie (Katie Parker), what she forces herself to think or imagine in regards to what might have happened to her husband since his disappearance seven years ago. Here is a portrait of a woman so lonely, so sad, and so desperate to have some semblance of closure in her marriage that she is unable to move forward with her life. Her husband is not the only thing that disappeared seven years ago. So did her own light.
We meet Tricia putting up new missing person posters and right away we detect a melancholy about her. She moves rather slowly not because she's pregnant but because she is pulled between past and future. The present is unbearable; she lacks purpose. It is quite possible she's depressed. Bell portrays Tricia as a motherly and sisterly figure with seeming ease. We wish to get to know her character even though she is clearly not at her best. Flanagan makes the correct decision to allow Tricia and Callie to talk deeply—about Daniel's disappearance, Tricia delaying to find a new place to live and start a new chapter, Callie's history with drug addiction. What's brilliant is the fact that these personal details are not simply utilized to garner our sympathy. These are tied into the mystery at hand: What is going on in this neighborhood, especially its track record of people suddenly being spirited away?
There are numerous creepy and downright chilling images, from bug-like shadow creatures skittering about, a shower curtain moving just a little bit when nothing is supposed to be behind it, ghostly Daniel appearing in the background when Tricia closes her eyes—and sometimes right in front of her when she opens them. Couple these with Flanagan's expert use of silence. We learn to brace ourselves when all we can hear are footsteps and the sounds of our characters breathing. Notice, too, that when the unsettling score is employed, it is also overpowering. It is interesting that at times the score booms and we are forced to listen closely at the subtler sounds of a scene. Clearly, Flanagan wishes for us to engage with the material, to use all of our senses and turn on our brains—the opposite of many modern horror movies.
I enjoyed there is no explanation offered about the origins of the monsters. To do so would have eroded their mystique, possibly made them less scary. I would even go as far to say that going down that route would have made the story more pedestrian. Instead, we are given time to absorb and process the lies the characters tell themselves in order to try to make sense of seemingly inexplicable paranormal phenomenon. Because are provided rich character details, the various puzzle pieces can be put together so that rationalizations are pragmatic, "conclusive." This is true to life, I think. We are biologically wired this way so that we can move on from tragic and/or traumatic events. The goal of this film is to put that idea into context.
"Absentia" may be low on budget but it is high on ambition, imagination, and entertainment value. Obviously a fan of the horror genre, Flanagan is aware of the usual rhythm and beat—he uses them as they are sometimes and there are instances when he turns them upside down. But most of his effort is put into creating humanistic and deeply flawed characters so that we care about them as if we know them personally. I grew so attached to Tricia and Callie, I found myself wanting a sequel… even though I know deep down that the story is complete as is.