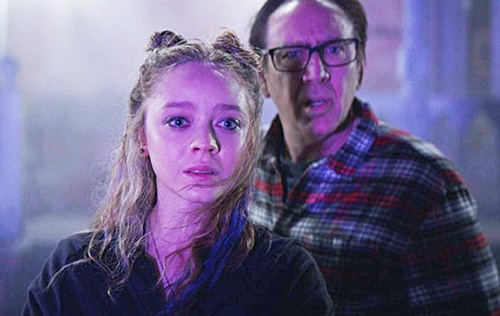 Color Out of Space (2019)
★★ / ★★★★
The essence of H.P. Lovecraft's stories are notoriously difficult to get right on film, and Richard Stanley's "Color Out of Space" is yet another example. What should be an enigmatic, sad, and ultimately horrifying story involving a family whose matriarch, Theresa (Joely Richardson), has just undergone mastectomy is reduced to a series of "Did that just really happen?" shock moments—entertaining at first but eventually suffering from diminishing returns. While the special effects—CGI and practical—are visually impressive on occasion, especially eye-catching when the filmmakers dare us to look at the disgusting boils and rotting flesh, I found myself not caring at all about the family. Like their pet alpacas, they are treated merely as sheep to be slaughtered.
The picture shows initial promise, clearly having an eye for beauty. Observe the opening scene closely. We watch the teenage daughter, Lavinia (Madeleine Arthur), an aspiring witch, partaking in a ritual that might help to strengthen her mother's health. During her performance, we learn about her hopes for the family, how she feels about living in a posh but isolated estate, her yearning for independence. She is surrounded by verdant trees, the circle of rocks sitting right next to a pond full of life, how the bright sand allows everything on top of them to pop out. It creates the impression that the story is taking place somewhere far away, foreign, certainly not set during modern times. This fantasy, however, is broken when a curious stranger appears—Ward (Elliot Knight), the hydrologist, a potential romantic interest.
But the stranger is not the only outsider. In the middle of the night, a meteorite crashes on the front yard and creates an explosion. Nathan (Nicolas Cage) and Theresa run out to investigate, imploring their children to get away from the crash site and stay inside the house. Bizarre events begin to happen… starting with the youngest, Jack (Julian Hilliard), who goes into some sort of shock or trance right after the crash. Soon, Benny (Brendan Meyer), the middle child, begins to encounter problems with time.
Although it is interesting that the family members' strange experiences are directly tethered to their interests—for example, Benny enjoys smoking marijuana which can alter one's perception of time, Jack enjoys pretend play so he starts hearing someone, or some thing, attempting to communicate with him from inside the well—it is frustrating that the story fails to take off.
The movie is reduced to showing grotesque incidents. The more this formula is followed, the more the work consistently fails to provide reasons why this particular story is worth telling. We are provided not one original idea. In the middle of it, I wondered what the picture was about. Is it about Lavinia becoming a woman, the meteor serving as metaphor for womanhood? Is it about how one family member's illness (in this case, cancer) can become the whole family's illness (emotional, financial, social stresses)? It is about how helpless or unprepared we are as a species when faced with new or ancient disease? These are just three examples. So as you see, this story could have been so much more. Yet it isn't.
Even Cage's histrionic acting gets old eventually. Because nearly every element is so hyperbolic—the colors, the sounds, the effects, the characters' desperate circumstances—the hammy acting becomes groan-inducing. I was reminded of Panos Cosmatos' avant-garde "Mandy"—in which Cage's hyperbolic facial expressions, behaviors, and overall being feel exactly right. Here, the Cage brand of manic functions more as distraction from the malnourished screenplay.