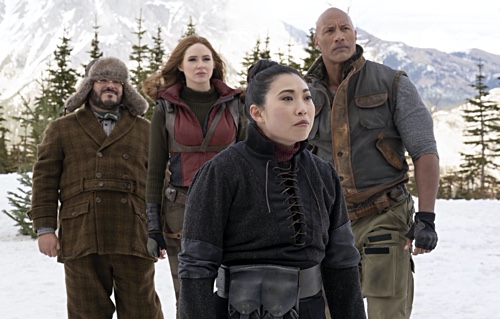 Jumanji: The Next Level (2019)
★ / ★★★★
There is nothing next level in this sequel to the surprisingly enjoyable "Jumanji: Welcome to the Jungle," the first direct follow-up of the 1995 classic, unless you count mediocrity as a positive trait. It is try-hard in just about every aspect: its humor, characterizations of already hyperbolic characters, vague references to video games, and utilization of bad CGI in order to create a semblance of thrill and excitement. I was bored by its rotten offerings; halfway through I felt embarrassed for everyone on screen and wondered which projects they refused in order to appear in this misfire of an action-comedy.
It begins with potential because there is some form of human drama. Spencer (Alex Wolff), now a college student in New York City, the nerdy kid who we assumed would thrive in a college setting back when we met him as a high school senior in the preceding picture, appears to be experiencing college blues. He returns home for the holidays and, in order to escape, chooses to go back into the game and recapture that feeling of being strong, unstoppable, special.
But instead of really honing in on this character's psychology or state of mind, the screenplay by Jake Kasdan (who directs), Jeff Pinkner, and Scott Rosenberg, merely introduces elements why he might be feeling depressed: a recent break-up, a thankless part-time job, feeling deeply insecure from having seen Instagram posts of all the adventures his friends are having, and the like. Once Spencer gets sucked into the game, all humanity goes out the window and never seen again. Naturally, when he is found everything is all right again. The movie is over, right? Unfortunately, no.
Instead, we are introduced to a number of eccentric characters both old and new. Particularly enjoyable are Eddy, Spencer's grandfather who is recovering from hip surgery played by the inimitable Danny DeVito, and Milo, Eddie's former restaurant co-owner played by the scene-stealer Danny Glover. Notice that no matter how familiar or connected we are to Spencer and his friends (Morgan Turner, Madison Iseman, Ser'Darius Blain), not one of them is interesting by comparison when in a scene with the highly experienced DeVito and Glover. When the two character actors speak or simply be, our attention goes straight to them. At one point, I wondered why these young folks are required to appear in this next chapter since they are given nothing new to say or do. For easy continuity, I guess. Convenience.
And that's the problem. This film has grown comfortable taking the easy route one too many times—whether it be the safe jokes (sometimes the exact same jokes we've already encountered in the previous movie which makes the expository scenes drag like no tomorrow), how characters tend to yell over one another which is often mistaken for humor, the way in which the action is presented in a chaotic and unappealing way, to the lame, surface-level nudges to video games, especially role-playing games. While understandable that the screenwriters try to strive for accessibility, it is a family picture after all, must the material be so consistently devoid of originality, creativity, and ability to take risks? This movie tastes like it was made in a factory.
You can tell that "Jumanji: The Next Level" is made too soon and too quickly. The central villain named Jurgen the Brutal (Rory McCann) is bland and the mountaintop castle he resides in is without personality. In the end, of course, our heroes must break into the castle and obtain an artifact. Anybody who has played a video game can tell you that final bosses must be challenging. In this film, it is like a walk in the park. There is no sense of danger or mortality. No one even gets wounded. When our characters' remaining lives dwindle down to one, there is no tension at all. You know what would have been next level? To discover what happens when a character's final life gets used up. Because the film is so safe, we never get an answer.