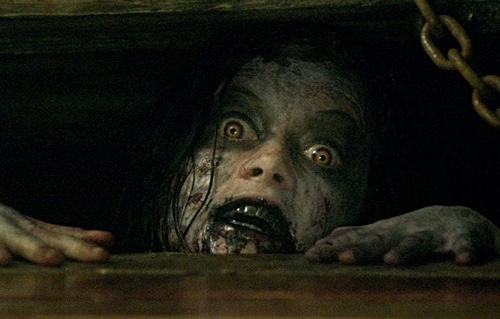 Evil Dead (2013)
★ / ★★★★
"I've had enough of this shit."
So have I, Mia. So have I. Less than halfway through, it is glaringly apparent that Fede Alvarez' reimagining of Sam Raimi's 1981 horror classic "The Evil Dead" adopts an obnoxious (and obvious) approach to tell its story: turn up the volume to 11, make it five times as gory as the original, and drain every bit of charm out of the characters so when they get injured, maimed, or die, we do not even blink at the fact. It is a movie more concerned with delivering surface, evanescent sensations rather than attempting to provide an experience that lingers in the gut and mind. One trick pony by nature, it's completely forgettable.
Take a look at the infamous forest rape scene as an example. In this film, the visual effects are quite impressive. When the trees' branches wrap around Mia's neck (Jane Levy), it really looks like there is a grip around her throat that is preventing her from breathing. The black, slug-like demon crawls out from the tree, onto her legs, and inside her. By contrast, in Raimi's film, the branches do not look as though they possess intention to hurt, kill, or rape. Not only are they thin, they look like they're already dead or dying.
And yet despite the clear gap in budget and quality of effects, notice that Raimi's is the better scene. There is patience from behind the camera. There is a rhythm to the editing—inciting us to call for help even though we know it is only a movie. When the camera moves, it is always with purpose. It is quieter, less busy. It feels personal. Sad, even. The rape feels drawn-out which amplifies the horror of the scene. You wish to look away. You feel shaken. In Alvarez' film, the rape is just something that happens. Onto the next violent sequence.
If you're on the market for young people cutting off their faces with glass, being shot with a nail gun, and chopping off their arms with an electric knife, then perhaps this version is for you. Or maybe not. Consider: Why bother reimagining a story when the screenwriters (Alvarez, Rodo Sayagues) fail to inject new blood in a franchise that, while gory, is fun, funny, inviting, filled with knowing winks to the genre and, above all, creative? It just doesn't stand out from other grim-faced demonic possession movies. What's the point?
The setup is not without potential. I liked that these characters do not visit the cabin in the woods to have fun during their weekend getaway. Olivia (Jessica Lucas), Eric (Lou Taylor Pucci), David (Shiloh Fernandez), and Natalie (Elizabeth Blackmore) are there to help Mia (Jane Levy) overcome her heroine addiction. There are easy parallels between drug addiction and being possessed by a foreign entity. It is curious and disappointing that the screenplay fails to capitalize on the metaphor and deliver a work with surprising thought or insight. It is all about making the violence look grand, shocking, spectacular. I didn't care one bit.
I wanted to care about Mia and David. These are siblings who have lost touch just before their mother died. The expository dialogue hints at pain, sadness, and anger they have for (but hide from) one another. But these are never explored—even when one of them has been possessed by evil. I think the problem is that the writers have a limited definition of horror. It is not always about disturbing and gross-out images. In fact, I argue it should rarely be about that. The horror genre is a conduit, a mask, a mirror for something we cannot face head-on. And because they don't understand what horror really is, we are given a cheap, factory-made horror film.