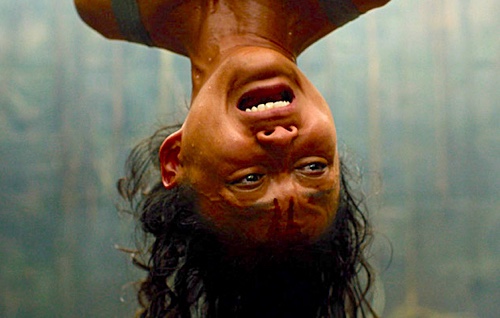 Impetigore (2019)
★★★ / ★★★★
After seeing Joko Anwar's Indonesian horror film "Impetigore," I was inspired to walk around outside and soak in the warm sunlight. It is the kind of work that drenches you so fully with its heavy fog of portentous images, the experience is like peering into a different world—a world without warmth, without hope, without comfort.
The movie is scary, mysterious, and suspenseful. But it can also be funny at a drop of a hat. The writer-director seems to be aware of the genre's conventions and so he injects just enough kinks to keep us on our toes. This is not a work that is reliant upon jump scares and quick cuts—which plague mediocre horror pictures in the west. On the contrary, it seems to have aversion toward cheap scares and such overused techniques. Its patience invites us to look into the void.
The premise is familiar: a woman named Maya (Tara Basro) returns to the village where she was born so she can, in a way, come to terms with her past. Desperate financially, she wishes to check on a house that her parents might have left for her and sell it. But this template is surface-level. Even before we lay eyes on the isolated village of Harjosari, Maya's past has come to haunt her. But the haunting is not done by old-fashioned ghosts—residents of the village venture into the city to find and kill her. We learn about a curse that's been around for twenty years. Somehow Maya is in the middle of it even though she has no childhood memory of Harjosari.
We spend ample time learning about the village's culture. Maya and her best friend named Dini (Marissa Anita) tiptoe around the hush-hush village as they notice there appears to be a procession for the dead on a daily basis. We observe how residents live, the type of work that's available, the clothing on their backs. Locals do not smile. Their eyes either look dead or angry.
This is a place without electricity so when darkness comes every corner feels like a threat. We attend their rituals—a burial, pregnant women giving birth, puppet shows. We visit the cemetery and note its verdant beauty… amidst small headstones of children without names. Nearly every scene we are given something creepy to digest.
I am the first to complain when a film is reliant upon flashbacks. There is one extended flashback during the third act, but I didn't mind it because everything else that leads up to that point is strong. Notice that if flashbacks were taken out completely, we would still have other information already at our disposal in order to make sense of the story. In other words, looking into the past does not take away from or sabotage the current timeline. Filmmakers in the west—especially Americans—can learn a thing or two on how to utilize flashbacks in a way that enriches the work rather than cheating or boring the audience.
I wished the final scene involving what happens to the village "one year later" had been removed altogether because it leaves a bitter taste in the mouth. That short and pointless sequence is something I expected from writer-directors who do not understand how to be efficient with storytelling. Nevertheless, this misstep does not take away the fact that "Impetigore" excels in inducing uneasiness and disquiet. I look forward to discovering what else Anwar can offer.