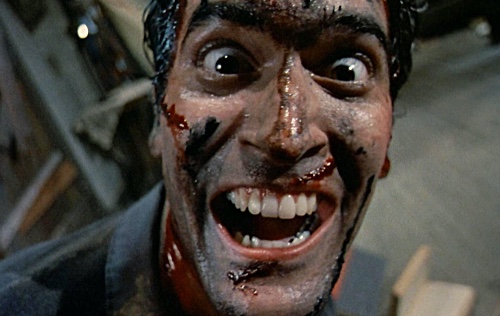 Evil Dead II (1987)
★★★ / ★★★★
"Evil Dead 2: Dead by Dawn" begins like any other cabin-in-the-woods horror picture: an unsuspecting couple goes on their romantic weekend getaway and suddenly their plans are completely derailed. Something unusual, shocking, almost off-putting: not eight minutes into the picture, the woman is dead—beheaded!—and buried in the ground. The man named Ash (brilliantly played by Bruce Campbell) is left to fend for himself against the demonic forces residing in the woods. Terror and… hilarity ensues. The work, written by Sam Raimi (who directs) and Scott Spiegel, is a satire of horror movies.
It is not so much a love letter to horror films—the first "Evil Dead," a straight-faced scary movie involving a group of friends who meet in their doom in the very same cabin of this sequel—is closer to that. This is a love letter to horror images, from the undead rising from the grave, malicious-looking trees capable of uprooting themselves, a severed hand moving on its own, to buckets of blood being sprayed from the walls. It is so over-the-top that one cannot help but smile at its earnestness, its willing to entertain no matter the cost. And it does not run out of energy.
There are numerous crafty sequences powerful enough to embed themselves in our memories. I will give two examples. The first involves Ash finding himself surrounded by laughter… not of other people but of inanimate objects (deer mounted on the wall, bookcases, lamp) that shouldn't be capable of moving let alone laugh. The demons are mocking him for being alone, for being weak, for being terrified. The evil knows it is going to win and so it plays with Ash for as long as possible. Ash can't find himself to do anything at that point but laugh along. That is, until his laughter turns into sobs of desperation. He is the target and the evil force aims to drive him mad; he is entertainment to them—and he, along with his tormentors, in turn is entertainment to us. Clearly, the satire has bite.
Another example: the unbroken shot involving a chase between Ash and the unknown force that follows him from the woods to the cabin. We take the point of view of villain. But notice the content of the chase: it is a slapstick comedy. Ash wriggles about, stumbles, inserts himself in various cracks and corners like a little mouse. He opens and breaks down doors… and the evil is capable of doing the same. Things go wrong for our protagonist and yet somehow the force never gets to him, perhaps on purpose. It is loyal to the theme of Ash being its plaything. The evil is not evil because the ominous Book of the Dead says so. It is evil because of its actions: It enjoys tormenting its victim for the sake of entertainment. Raimi is in complete control of not only the images but the messages he wishes for us to consider. It is clever nearly every step of the way. ("Nearly" because I am not a fan of the final scene that sets up the next movie.)
"Evil Dead II" is not just any other remake or sequel or reimagining. I think this terrific follow-up can be considered as the "alternate spirit" of the original. Both share the same setting, but emphasis is on completely different ideas. Similar special and visual effects are employed, but they must be utilized in different ways in order to accomplish a specific goal. Together, these two make an excellent double feature for those who wish to analyze and understand specific types of storytelling told through similar vein. There is plenty to appreciate here.