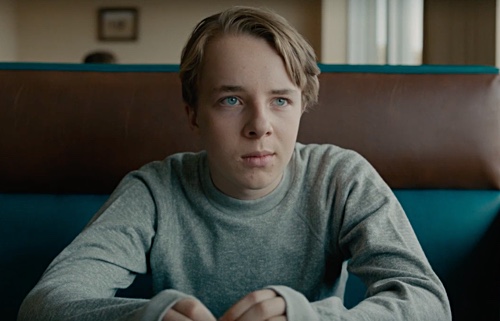 Wildlife (2018)
★★★ / ★★★★
Upon meeting the Brinsons, we cannot help but to get the impression they are the typical happy, middle-class American family: there is warm food on the table; every member is laughing or smiling; sports announcements are being broadcasted on the radio. But by the end of this story, based upon the novel of the same by Richard Ford and adapted to the screen by Paul Dano (who directs) and Zoe Kazan, the Brinsons as a unit have all but collapsed. Although the story takes place in 1960, echoes from the past reverberate to our modern times with stunning puissance because the work's strength lies in specificity and details. I think those who have experienced divorce—as adults who were once married or as children whose parents decided to separate—will find a number of honesty and truths in "Wildlife," a terrific debut film about change.
The fulcrum of the story is seen through the eyes of the son. He has an ordinary name, Joe, and he is portrayed with quiet power by Ed Oxenbould. Joe does not say much, but his actions communicate that he loves his mother, Jeanette (Carey Mulligan), and father, Jerry (Jake Gyllenhaal), that he is gentle, observant, and gears in his brain are always rotating. He seems innocent, but we know precisely what he is thinking and/or feeling when there is sudden silence between arguing parents, when father is fired from a job he excels at and enjoys, the implications that come when mother suggests that maybe it would help the family if she took on a part-time job. Oxenbould emotes in an inward manner—precisely the correct approach in a heavy drama like this one. Not once does Joe cry, but we can hear him screaming on the inside.
Like Joe, the remaining three important characters are never defined by one thing that they say or do. When Jerry decides to take on a menial and low-paying job involving putting out forest fires, we are forced to wonder why. The director, coupled with Gyllenhaal's thoughtful performance, ensures we know enough about the character to be able to put the pieces together. In my eyes, Jerry has an idea of what it is like to be a man: the breadwinner, the provider, the one who sacrifices every bit of himself for his family. When one aspect of his definition is taken from him, he feels a part of himself has been ripped away. He has no purpose and so he goes up to the burning mountains to find it. To him, this is a sacrifice that must be done.
But for Jeanette, to leave is an act of selfishness. Mulligan's face is so expressive, she wears at least three emotions in every scene she's in: what her character wants others to see, what she really feels, and her subconscious wants and needs. Here is a woman who feels she has done all that she could to be supportive of her husband whose nature is to run when life becomes challenging. Although we see the story unfold from Joe's perspective, an argument can be made Jeanette is the most complex out of everybody.
It is reductive to say that Jeanette is tired of being poor. Yes, on some level, she is. After all, she eventually goes after a man who is wealthy even though he is twice her age (Bill Camp). But I take it a bit further. I think Jeanette is tired of being disappointed; that no matter what she does, she cannot change the very nature of the man she married. In her mind, she is a fighter in important ways that he is not. She regrets to have overlooked this fact prior to marriage. Or it's possible she thought she could fix him somehow. And so when her husband leaves, she seizes the opportunity to break free from the shackles of having to be let down yet again.
Intensely character-driven, "Wildlife" is a film for intelligent and thoughtful viewers. You get what you put into it; it is required that you look characters in the eye and consider how they think or feel given a set of details that the screenwriters provide. No blame is placed; it is not necessary. There are no easy solutions. There are, however, repercussions for actions taken. The ending works as a litmus test on whether you see the glass as half-full or half-empty.