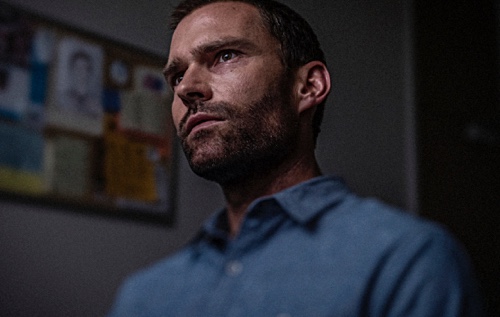 Bloodline (2018)
★ / ★★★★
First-time director Henry Jacobson wishes to tell a story about a monster hiding in plain sight in "Bloodline," a psychological thriller so devoid of suspense, creativity, and drama that to say it is a Great Value version of the television series "Dexter" would be an insult to the brand—because the brand is meant to save us money while the film wastes our time. Nearly every second of its ninety-five minute running time feels like pulling teeth because no tension is accumulated; we are simply meant to sit through a series of would-be shocking events which almost always end up with a victim getting his or her throat sliced open. Cue the blood spatter on the killer's face.
In the middle of it, I wondered if Seann William Scott actually read the screenplay before signing on for the project. He must have because it is obviously an independent film with limited budget—not at all a multimillion-dollar franchise in which an actor gets paid the big bucks. Did he owe someone a favor? Was he threatened to do the picture? Is this a two-part deal? In any case, his talent is wasted here. His character, a high school counselor who has a new baby at home, is not written with searing insight, great depth, and surprising details—strange because the intention of the work is for us to look at Mr. Cole and recognize eventually he is a portrait of evil. It is not enough to show him killing people that he thinks deserve to be punished; we must have an understanding of what makes a complex subject tick. What is/are his moral code(s)? Does he have any? Whatever the case, what makes this character worth looking into?
Mr. Cole's penchant for killing stems from a traumatizing childhood event. (Aren't they all?) These flashbacks lack control in terms of editing and how it is shot. They are presented to us randomly, perhaps when the subject becomes so stressed in his home life and/or while at work. The intention, I guess, is to show that he has such a flimsy grasp on reality that his mind must reach back into the past in order to cope. It is most unconvincing because the material also suggests that Mr. Cole is addicted to killing. It cannot be both because these are two different needs. There is a lack of both consistency and a basic understanding of abnormal psychology in Avra Fox-Lerne, Henry Jacobson, and Will Honley's screenplay.
Strong debut pictures are usually propelled by great energy. At times first-time filmmakers wish to throw everything but the kitchen sink into their project—just in case they will not have another opportunity to make a second movie. In "Bloodline," it is almost the exact opposite. There is no sense of desperation here channeled into something positive. It is lifeless, dour, and nearly every element feels constricted. Listen to the dialogue, for instance. It sounds like actors are reading from the script instead of simply being. Look at how scenes are shot indoors versus outdoors—there is little difference. It is no wonder the work is flat in look and feeling.
Even the relationship between husband and wife (Mariela Garriga) is most unconvincing. We are supposed to notice a difference in how their lifestyle changes as a couple once the adorable baby arrives—when it is not painfully apparent the performers are carrying or interacting with a doll—but there is nothing to sink our teeth into because minimal context is provided when it comes to how their lives are like before parenthood. It does not help that Scott and Garriga share no chemistry. When they are in bed together, it feels like a bad joke. We wait for the punchline.