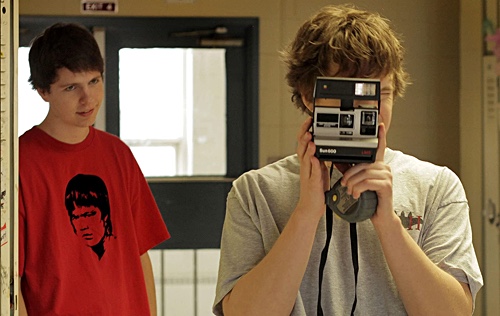 The Dirties (2013)
★★★ / ★★★★
"What are you doing? It's me."
It is almost impossible to go through this movie without feeling a heavy knot growing in the pit of your stomach. We know that its final destination is a school shooting. And director Matt Johnson (who co-stars and co-writes) spends ample time putting all the pieces into place until the horrifying but well-earned first gunshot. The film is suspenseful and scary, but it is also very funny and sad—certainly compelling at times because it is honest about high school life, especially in the way it captures how it is like to be an outcast.
I saw myself in best friends Matt (Johnson) and Owen (Owen Williams) even though I do not consider myself having been a victim of bullying. The recognition comes in the form of how the two boys relate, like their passion for making movies, putting on costumes, laughing and making fun of themselves. The silly jokes that are only hilarious to them while strange in the eyes of others. It is in how they're relaxed when around one another, how they know precisely what the other is thinking when their eyes meet at the same time. I believed that Owen and Matt have known each other for more than half their lives; they're always on the same wavelength.
That is, until they are assigned a school project which involves making a short film. They choose to make a comedy called "The Dirties" which is about killing a gang of high school bullies. Although creative and energetic, bad words and guns are prevalent—totally not appropriate to be shown in class. We already know what the teacher will say when he sees the rough cut. Still, Matt and Owen comply. They have no choice; it's due to the next day. For one of the boys, though, the project continues after the video is shown in class. He decides that those who've tormented them for so long deserve to die. So, he goes to the library to ask for the high school's blueprints. He is amused by how easy it was to get.
I appreciated that the picture does not diminish bullying in high school. For instance, when Owen is smacked in the head with a rock, not only are we shown the blood, time is taken to underscore the fact that Owen is unable to stand up—due to the pain and, perhaps more importantly, for being completely humiliated. I noticed myself feeling so upset and angry—like a friend was being bullied right in front of my eyes. I caught myself thinking I wanted payback. Enough is enough. The writer-director (Evan Morgan co-writes) has done such a terrific job of welcoming us into Matt and Owen's little world that we feel like we are one of them.
I think "The Dirties" makes a strong double bill with with Gus Van Sant's excellent "Elephant." Both involve high school shootings. Their tones are completely different. Yet the tension, and suspense, in both films are high. Both possess a gritty, realistic feel to them. Their endings are handled very differently. But both are effective. Do not miss this one.