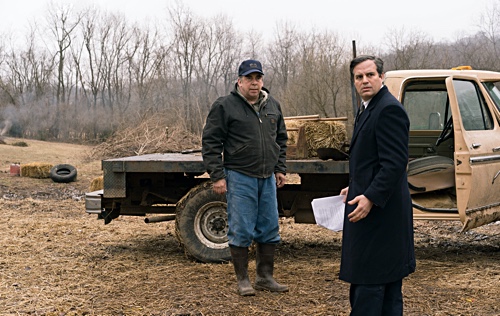 Dark Waters (2019)
★★★★ / ★★★★
Horrifying, meticulous, and eye-opening, Todd Haynes' legal drama "Dark Waters" is a blatant reminder of how far industrial companies will go to rake in profits—even at the cost of their consumers' livelihood, health, and lives. The story unfolds over a decade and a half yet there is not a dull moment; nearly every scene is purposeful in that it strives to provide the requisite information so that we have an appreciation of the momentous case that Robert Bilott (Mark Ruffalo), a lawyer who had just made partner in Taft, Stettinius & Hollister in 1999, took on against DuPont, a company guilty of knowingly exposing people to toxic chemicals. Shocking and detailed evidence date back to the 1970s—based on DuPont's very own studies. It is near impossible not to feel enraged while sitting through the film. I watched with great fascination.
To this day, we must live with the chemicals that DuPont released into the environment. Make sure to sit through the title cards near the end credits for staggering statistics. The reason is because these synthetic chemicals—without going into scientific details—are "forever" in that our bodies cannot break them down. And so they remain inside of us. Yes, extensive studies have shown they can cause different types of cancer.
The film does an incredible job in telling and showing what the chemical called PFOA (also called "C8") does to people, animals, and the environment. Some viewers may get lost in scientific and legal terms. But unforgettable are images like organs that have ballooned, blackened teeth, unusual animal behavior, bruises and scabs on skin, bleached rocks sitting at the bottom of what should be a clean and safe stream.
I admired the picture's willingness to show detective work. It is not enough to show hundreds of boxes sitting in a large room. We are shown Bilott opening these boxes and combing through stacks of paperwork. We look at the paperwork; we read the underlined and highlighted words; we try to understand the notes written on margins and between lines of text. We examine photographs. We listen in on phone calls. We grow frustrated at the rigged system designed to squash the helpless.
Haynes' camera is used like a microscope in that we come to learn how Bilott thinks. This is not a movie in which inspiration is treated like a lightbulb going off suddenly. Inspiration is rooted in humanity, in anger, in frustration, in the act of demanding justice like when our protagonist—our hero—is confronted by a farmer, Wilbur Tennant (Bill Camp), about the landfill runoff that had been killing his crops, his cattle, and, unbeknownst to him, his family.
There are terrific performances all around. Ruffalo grounds Bilott in such a way that he is approachable, fiercely intelligent, hardworking, and a bit naive in the beginning when it comes to how much power an industrial company possesses and how it wields that power. Ruffalo embodies Bilott's physical and mental degradation in a believable manner. Here is a character whose body is dead tired but his mind is always racing. Another standout is Tim Robbins as the chairman and managing partner at Taft; I enjoyed that Robbins, usually a natural and charismatic scene-stealer, refrains a bit here. It's difficult to read what those eyes are thinking; I loved the intrigue. Also, Bill Pullman has a short but memorable role as a colorful trial attorney.
Who is "Dark Waters" for? The answer is everybody. It will make you want to look at your kitchen appliances, your raincoat, your carpet, foam, cardboard packaging… even the water coming out of the faucet. In other words, it opens our eyes and makes us question how every day objects can impact our health. It is not about paranoia, it's about being informed.