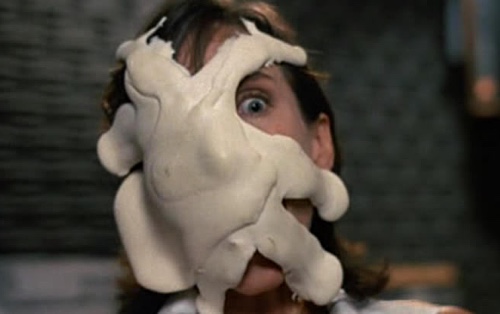 The Stuff (1985)
★★ / ★★★★
Blind consumerism is the subject of satirization in "The Stuff," written and directed by Larry Cohen, a comedy with splashes of wild inspiration and patches of going for the lowest hanging fruit. All of us can relate to its premise: chugging down an extra glass of soda when we know it is related to certain types of cancer or eating an extra burger while being fully aware of its connection to heart disease. They just taste so good. "Just one more," we tell ourselves. "What harm could it do?" This film pushes these ideas to extreme levels. But I say, on some occasion, not extreme enough. It loses its satirical edge from time to time.
The Stuff that has captured the American public imagination is a dessert. It looks like melted marshmallows and it is described as sweet. It is so addictive that it is considered to be a threat to ice cream—which ice cream companies are not happy about. So ice cream executives hire industrial saboteur David Rutherford (Michael Moriarty) whose nickname is "Mo." He is called that, he explains, because whenever he gets something, like money, he always asks for "Mo." His goal is to find out how The Stuff is made. Mo is clever, resourceful, good at his job, and has a good sense of huMOr. This nickname is even tethered to the thesis of the film. Careful thought is put into the screenplay.
Special and visual effects are hit-or-miss. The Stuff being a sentient entity that seeps out of the ground, it looks terrific when simply shown bubbling about in its natural habitat. However, when it expels itself out of animals and humans in order to attack its prey, it is neither scary nor amusing because it is painfully obvious that a mannequin is employed or the CGI sticks out too much from its environment. Couple these shortcomings with substandard editing (the sequence involving a dog attacking its owner quickly comes to mind), there is a disconnect between how the images come across and how we are supposed to feel. The better choice might have been to remove the more ostentatious effects and simply trusted our imaginations to do the work.
The most effective sequences involve people realizing that their loved ones have become addicted to and are taken over by The Stuff. Jason (Scott Bloom) wakes up hungry one night and notices that the dessert is moving on its own inside the refrigerator. He refuses to eat it and warns his family what he had seen. Naturally, they do not believe him. Those who have seen at least one "Body Snatchers" picture will likely know what might happen next, but there remains a creepiness, an intrigue, to the work. I think it may have something to do with the anticipation that something big (Mo's storyline which involves corporations and detective work) will collide with the more humble aspects of the plot (Jason, a helpless pre-teen, living in suburbia).
The military angle is a complete misfire. This is the point in which the story devolves into a wan action picture. There are far too many characters on screen for anything to come across as genuinely suspenseful, thrilling, or horrifying. It does not help that more than half do not have anything of value to do or say. It simply becomes an exercise of effects—like shooting at people taken over by The Stuff then showing the corpses—rather than a rumination of what it is about our own needs and desires that are already so self-destructive and self-consuming which are then amplified exponentially by politics and marketing. When the picture is about ideas, it excels. When forced to become standard entertainment, it withers away.