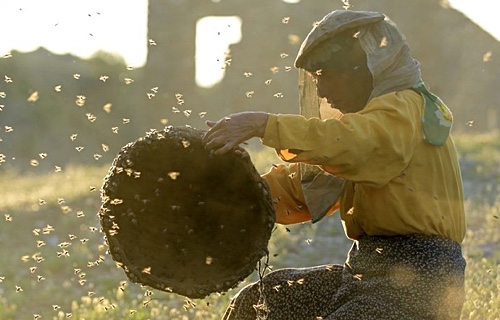 Honeyland (2019)
★★★★ / ★★★★
One of the beautiful characteristics of Tamara Kotevska and Ljubomir Stefanov's "Honeyland" is that you wouldn't know it is a documentary unless you are told it is. That is because it is not a typical documentary: no voice can be heard from behind the camera, the subject does not look at the lens to answer questions, and there is not a single title card meant to provide explanation. We are simply dropped in the mountainous region of the Balkans and we follow a woman named Hatidze trying to make a living by taking care of her bees and selling their honey at the nearest market in Skopje—several hours away from her home should one travel on foot. And she does. Where she lives, there is no car or buses because there is no road, there is no electricity, and there is no running water. It is impossible not to be fascinated by this beekeeper.
The majority of the film is composed of silence—which makes images stand out. We observe closely as Hatidze takes care of her ailing and bed-ridden eighty-five-year-old mother: we are there as Nazife is fed, when she wakes, as she attempts to move her leg upon her daughter's insistence that she cannot remain in one position for so long. We watch as Nazife is bathed, when her hair is dyed, as the mother and daughter kiss each other good night. In front of us is love at its rawest being captured on film. As Hatidze sits right next to her sleeping mother, we look at her face and a freight train of questions run through our brain. I wondered if she was lonely, if she considered getting married, if she wanted to live somewhere else less isolated. Does she feel anchored because of her mother? What is her opinion of the outside world?
Some of these questions are answered as the picture moves forward. And some are not—which is perfectly all right considering the other rich details the film provides. For instance, it is educational in that, solely through observation, we learn specific tips on how to handle bees. On occasion, Hatidze wears a veil to protect her face from stings, but notice she never wears gloves. Her arms and hands do not appear to have been stung despite a lack of protection. When she handles the honeycombs, she is always calm. She ensures that she takes only half of the honeycombs and leaves the other half for the bees so that more can be made. There is a zen-like quality in her relationship with the bees. We never learn how long she's been a beekeeper, but it wouldn't be a surprise to learn if she has handled bees since childhood.
Conflict comes in the form of a family (Hussein Sam, Ljutvie Sam, and their seven children) moving right next to Hatidze's home. They have cattle but there is barely any grass. There is always commotion due to the energetic children. Hussein decided to start beekeeping for extra income. Hatidze welcomes the changes. Maybe it beats being so silent all the time, being lonely, being bored. There is a beautiful relationship between Hatidze and one of the boys—who absolutely despises working with his father when it comes to handling bees but actually finds it lovely when Hatidze shows him the ropes. Kids are smart. They can easily pick up on the energy, feelings, and mood of a situation.
For example, the boy's father is financially driven. Handling of the bees must be done quickly. There is often panic when things go wrong. By contrast, Hatidze goes with the flow. She is not afraid to put her face close to the bees and their honeycombs. When bees get stuck in sticky goo or are suffering, she takes notice and knows what to do. She explains how things work and why; the boy is not asked to do anything that may be uncomfortable. Yet the picture does not paint the father as corrupt, evil, or the like. Raising a family, especially a big family, requires money. We understand that and Hatidze does, too. Still, Hatidze has the right to speak up when her own means of making a living is threatened.
But that is not all. Hatidze's relationship with the Sams is only one aspect of the film. The bigger picture involves our role in the destruction of our environment, the decline of biodiversity, our contribution toward climate change and global warming. "Honeyland" is a terrific documentary for all ages. It is specific, wild, curious, and eye-opening at times. It inspires you to want to take a look inside tree trunks, to look at the organisms hidden amidst soil and grass, to look at the sky and think, "There is a big world out there. I wish to experience more of it. So how can I help to preserve it?"