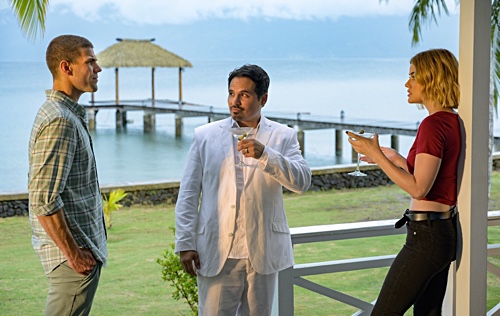 Fantasy Island (2020)
★ / ★★★★
The premise of "Fantasy Island" promises limitless imagination: the tropical paradise possessing the ability to grant its guests' deepest desires. It is even capable of bringing the dead back to life. But the movie is dull, repetitive, devoid of original ideas and so it relies on familiar tropes to create a semblance of suspense, and it feels closer to three hours than two. In the middle of it, I questioned whether the screenwriters (Jillian Jacobs, Christopher Roach, and Jeff Wadlow [who directs]) actually intended to make a good film. Clearly, there is more to making a movie work than simply slapping together a hodgepodge of ideas. The end result is convoluted dross.
There are a handful of familiar faces, from Michael Peña as the enigmatic keeper of the island, Maggie Q as a guest who wishes to get back together with an old flame, to Michael Rooker as a ragged onlooker who appears to know precisely what's going on in the island. These three have appeared in better movies and delivered much stronger performances. Neither hyperbolic nor downplayed acting could save a screenplay that is dead on arrival.
Perhaps the most curious performers are Lucy Hale as a young woman who wishes to enact revenge on a high school bully and Portia Doubleday as the reformed tormentor. Hale's Melanie is now the pretty girl and Doubleday's Sloane is married but unhappy. Throughout their time on the island, their dynamics shift. There is potential in their storyline. But the movie is filled with so many characters—less interesting ones—that the duo never gets the arc they deserve. And so when the would-be surprising final act comes around, we meet it with a shrug rather than a heartfelt desire to know the specifics.
One important trait the picture lacks is intrigue. Nearly halfway through, we are taken to a place that explains the island's source of power. This is simply the setup but the script treats it as the punchline. It is an alarming "So what?" moment. We wait and wait for an answer but it never comes. This lackadaisical and half-hearted approach bleeds into the guests' fantasy. We learn about their wishes but the writers fail to turn information into genuine humanity. Why tell this story when we couldn't care less for the VIPs running around the island? It should have been an easy task because, whether we care to admit or not, every one of us has something we wish to change about our pasts.
If the point of the feature is to exercise special and visual effects, it fails on that level too. Black water coming out of people's eyes, a burned figure popping out of unlikely places, people falling off a cliff and splattering on the rocks below, even simple gunshots to the head look cheap and unconvincing. Aerial shots of the island look great… but it is so sunny, bright, and postcard-looking that we are forced to wonder which images are CGI and which are real (if any). From a visual perspective, the work never becomes an enveloping experience. It does not help that each fantasy appears to be set on a different part of the globe.
"Fantasy Island" made me wish I were sitting through a better movie. One that offers deep imagination, varying levels of mystery and terror, and characters worth following and rooting for. Notice its level of ordinariness, its lack of flavor. Fantasies and nightmares never break from being told in a linear fashion. Really think about it: When you dream, it is rarely this way. Images are never this tame, storylines are never this boring. When our mind works things out, sometimes it is nonsensical. This picture cannot help but to explain, especially when antagonists reveal their motivations. This movie is not about anything. It exists simply to rake in the cash by capitalizing on the Blumhouse brand—which is depressing.