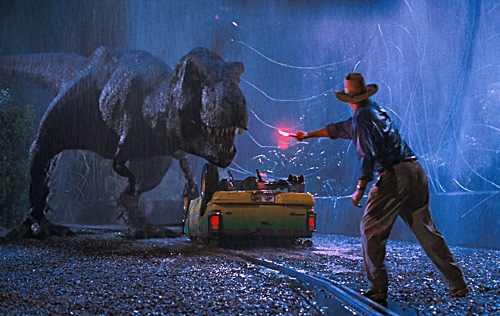 Jurassic Park (1993)
★★★★ / ★★★★
Steven Spielberg's "Jurassic Park" is one of the movies that inspired me to become a scientist. Most viewers tend to remember the picture for its more overt images: A Tyrannosaurus rex swallowing a goat whole, a herd of Gallimimus creating a stampede as one of them becomes prey, a Velociraptor learning how to open doors. But I remember it most for its informative and entertaining presentation—using animation—of how businessman John Hammond (Richard Attenborough) and his scientific team manage to clone creatures from Jurassic and Cretaceous periods: extracting DNA from fossilized mosquitoes coupled with the staggering power of genetic manipulation. Based on the novel by Michael Crichton, who co-writes with David Koepp, the film continues to stand the test of time because it is first and foremost about ideas. It just so happens to work in synergy among elements of high octane summer blockbuster entertainment.
Notice how the first half focuses on enveloping us with a sense of wonder rather than flooding our eyes with one-dimensional thrills, like chases or gore. When we see a dinosaur, yes, they are visually spectacular, but look at how the camera tends to fixate on the faces of our characters. No words are exchanged among them. Instead, we attempt to read what they are thinking and feeling by looking into their eyes. The experience of seeing live Brachiosaurus must mean differently for paleontologist Dr. Alan Grant (Sam Neill) and paleobotanist Dr. Ellie Sattler (Laura Dern), even though they work together in the same archeological dig site, because we have met them earlier and got a sense of what's important to them: as individuals, as a couple, and as scientists who must learn how to adapt to and utilize technology to further their careers. The screenplay is wonderfully efficient: it assumes we are intelligent and more than capable of wanting to get to know the colorful personalities on offer.
Speaking of personality, aside from Dr. Grant, chaos theorist Dr. Ian Malcolm (Jeff Goldblum) is also invited by Hammond to take a tour of Isla Nublar. By the end of the tour, the businessman hopes to get their approval so the park can finally be open to the public. Naturally, things go horribly awry. In a sea of curious characters, with two adorable and energetic kids among them (Ariana Richards, Joseph Mazzello), Goldblum's Malcolm manages to stand out in two ways: the character's memorable lines which reflect what the audience might be thinking in terms of the danger of wanting to control what cannot be controlled (life, essentially) and the performer's unpredictable (and joyous) line deliveries. Goldblum's performance is as big as the dinosaurs. And he has the star presence to match.
The CGI dinosaurs are terrific for its time. Couple showing them in their natural habitats—walking in herds, eating leaves off trees, drinking from a lake—alongside John Williams' musical score, the whole enchilada is magic. But I prose an alternative: the animatronic dinosaurs are more impressive and have aged better than the CGI dinosaurs. The sick Triceratops quickly comes to mind. One of the most unforgettable scenes involves Dr. Grant leaning his entire body against the Triceratops' abdominal area as the creature breathes in and out. Who doesn't want to do exactly that when coming across a massive and gentle dinosaur? Another: Dr. Sattler putting her whole arm in a pile of excrement in order to determine what, if any, the Triceratops has eaten that made it so ill. I wanted to put my arm in there, too. It made me imagine how it must be like to be that close to a hill of feces: the stench, the warmth, living things that may be feasting in there.
"Jurassic Park" is a movie remembered fondly for its action sequences—which are well-made and executed well, often propelled by a high level of craft and bravado. But it is also a movie that inspires us to consider what's not on the screen. You are looking at the screen, but images and sounds emanating from it are so powerful, so inviting, we imagine being on that island and yearning to experience a once in a lifetime opportunity. It is for children, for the elderly, and everyone in between. Spielberg is able to tap on human curiosity through the guise of popcorn entertainment. Isn't that one of the reasons why movies are made?