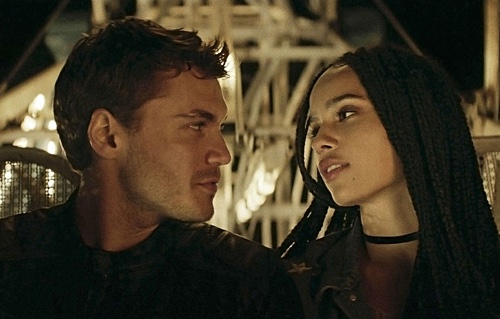 Vincent N Roxxy (2016)
★★★ / ★★★★
The dramatic thriller "Vincent N Roxxy," based on the screenplay and directed by Gary Michael Schultz, showcases a terrific cast that can embody any emotion required to create a convincing reality of simmering violence waiting to reach a boiling point. But those expecting a standard thriller with a typical parabola to make the story digestible will surely be disappointed. Instead of painting violence as beautiful thing, as often seen in mainstream projects, here is a film that showcases violence as ugly, brutal, and heartbreaking. There were instances when I found myself wishing to look away from the images on screen.
The near-brilliant piece begins as a thriller and quickly detours into a sort of romantic side quest involving the titular characters. Roxxy (Zoë Kravitz) being hunted by thugs (led by Scott Mescudi, a performer to watch out for) and without any money, Vincent (Emile Hirsch) offers to help her to get back on her feet by allowing her to stay in his family's farm (manned by Emory Cohen who plays Vincent's brother). Notice how the technique behind the camera changes as it fluidly enters and exits two distinct genres.
For instance, when Roxxy and Vincent are sharing a meal in a diner, the camera is up close and personal, desperate to catch every emotion as the duo flirt and attempt to get to know one another better. The lighting is soft, there is music playing in the background, the scene is inviting, lovely. One wonders at the possibility of Hirsch and Kravitz starring in a mature romantic comedy about young people figuring out where to sail their lives. But when violence breaks their bubble, Kravitz' and Hirsch's faces turn hard, stern, shades of blues and grays dominate background, sounds of blows to the body are amplified because there is no soundtrack or score. It is unpredictable in that we do not know which type of scene we will encounter in the next five minutes—a rare treat nowadays.
I admired how it takes its time. In standard crime-thrillers, the pacing is usually hurried, the dialogue lightning fast, leaving little room to breathe in order to get our adrenaline going. But here, there are stretches of ennui—which will surely bore some of the audience—which fits the thesis of the story and its characters. The movie is about people who must suppress their anger—which comes from the environment, unmet expectations, the past they either ignore or try to run away from, the suspicions they have of one another as they head toward their futures. The third act impresses as its throws one curveball after another.
"Vincent N Roxxy" is sort of a love story, but it is a love story that is not necessarily romantic. For example, the script touches upon the love between brothers despite the fact that one chose to run away when their mother was ill while the other chose to stay. Although the moments of violence are shocking indeed, equally surprising are its moments of genuine sensitivity, how it gets us to empathize with and be sympathetic to our tragic protagonists.