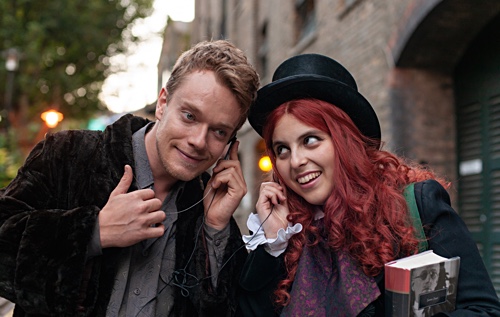 How to Build a Girl (2019)
★ / ★★★★
Here is yet another comedy with a terrific premise—a sixteen-year-old girl aspiring to become a writer is hired as a rock critic—but just about every time the film appears ready to take off, the screenplay falters, crashes, and gets mired in repetitive exposition. What results is a death march to the finish line: the main character is flavorless; her journey, while eventful, is without soul, and the lessons she learns about herself and adults around her are common sense for smart, well-grounded teenagers—someone she is already supposed to be. I didn't believe a single second of this movie; I found it no better than a trip to the dentist.
The film is based upon the novel of the same name by Caitlin Moran. It is a shock that she penned the screenplay because we are not given strong reasons why Johanna Morrigan (Beanie Feldstein, sporting an awful British accent) is a protagonist worth following. The intention, I think, is to tell a story of a person who feels ready to take on the world but is limited because of her age, lack of experience, and that she comes from a humble background. In order to compensate for the elements she lacks, she feels the need constantly underscore her talent for words. That's a workable template, but it isn't compelling when details and realism are lacking.
In the final scene, Johanna turns to the target audience—young women—and essentially reminds them that her journey is meant to provide female empowerment. Because she is able to claim a happy ending, so can those who are watching. While I support the idea of stories imbuing power to young girls, I couldn't but help feel confused because Johanna's struggles are not specifically tethered to her gender. In fact, her endeavors relate to nearly everything about her except her sex. There's a glaring disconnect.
Perhaps we are meant to notice the fact that Johanna is the only female writer hired at D&ME (say that three times as quickly as you can), a London-based paper specializing in covering the latest music bands and trends. But no drama is excavated upon her hiring. The men look at her not because she's a woman but because she is young and naive. Johanna is a music writer who can quote "Ulysses" from memory and yet she hasn't even listened to The Rolling Stones. Of course she's going to be considered as a joke. Who can take you seriously in a specific field when you do not possess the most basic knowledge required of that field? It's not about gender.
Instead of focusing on the drama between Johanna and her colleagues, plenty of attention is placed on how much money she has begun to make. Apparently, it's a lot, despite working for the magazine for only a few weeks, because she is able to dissolve her family's debt. She even buys them a new van at some point. Obviously, this is a fantasy. And so the screenplay is required to make a story realistic through other means. Otherwise, we as viewers do not connect with the material in ways that we can or should.
"How to Build a Girl," directed by Cody Giedroyc, is a frustration nearly every step of the way. Johanna is surrounded by personalities more interesting than her. Examples: her father (Paddy Considine) who still clings onto his dream of becoming a big rockstar someday, her gay brother (Laurie Kynaston) who just so happens to be her best friend, and musician John Kite (Alfie Allen) whose songs possess a sadness and yearning to them. These three make Johanna more interesting because despite her superficial quirks and occasional obnoxious personality, she is flavorless, flat as tap water. Why see this when Cameron Crowe's "Almost Famous" is in existence? The filmmakers fail to provide a compelling answer.