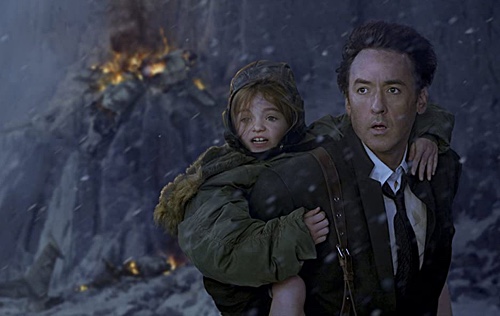 2012 (2009)
★ / ★★★★
Although a portrait of the end of times, disaster flick "2012" is meant to be fun and entertaining. But what results is a work that is over reliant on CGI, coupled with wafer-thin characters with nothing of interest to say or do other than flail around when the occasion calls for it, to the point where it is impossible to believe—let alone emotionally connect—in whatever is unfolding on screen. The movie boasts a budget of 200 million dollars, but it proves unable to buy deep imagination, genuine excitement, and a wellspring of creativity. All it manages to offer is empty spectacle: giant crevices dividing grocery stores in half, massive tidal waves engulfing the Himalayas, state-of-the-art ships capable of housing a hundred thousand individuals. What makes the movie special?
The screenplay by Roland Emmerich (who directs) and Harald Kloser is not without potential. It requires sitting down, thinking about, and discussing which elements are worth delving into and which aspects should be excised altogether. An example: The material wishes to make a statement about how we as a society can so easily turn against one another in life-or-death situations. But notice the work's failure in showing specific examples that make a lasting impression. In a movie with a running time of nearly a hundred and sixty minutes, it is not asking a lot to show regular folks fighting for resources. The camera is almost always on the powerful, the rich, and the brains working for the government. Worse, like clockwork, these people have the tendency to deliver tedious speeches about survival, heroism, and importance of coming together. It lacks a dramatic anchor.
Our anchor, I guess, is a work-obsessed author named Jackson Curtis (John Cusack) whose most recent novel tells the story of how humans deal with the apocalypse. His work was panned by critics for being too naive and optimistic. Jackson must now face a real-life apocalypse. If you think his naïveté and optimism are bound to be challenged by a dead screenplay, think again. Naturally, the way he perceives the world is solidified. The writers have failed to ask themselves how drama can be mined from a character whose ideals are not challenged.
You know it's coming: Jackson is divorced, but he still loves his ex-wife (Amanda Peet) and two young children (Liam James, Morgan Lilly); he would do anything to make sure they survive. Despite the Jackson character being provided a lengthy (and boring) exposition, Cusack is given nothing substantive to work with. This character's trajectory is predictable from the beginning all the way up to the moment when the two former spouses lock eyes and fall in love again. And can you believe it? This is not the only romantic angle proposed by the script. The other one, between a geologist (Chiwetel Ejiofor) and the president's daughter (Thandie Newton), is so undercooked that had it been removed completely, it wouldn't impact the story in any way.
Back to what most viewers likely signed up for: the special and visual effects. Sure, they look expensive at first glance but look closer: when performers are placed amidst the destruction, there is a glaring disconnect because it is obvious they're acting in front of a blue or green screen. Consider the scene where Jackson must escape Los Angeles with his family on a limo. Homes, small businesses, landmarks, and gargantuan skyscrapers collapse all around, the score is booming, and there is deafening yells and screams. It drags for so long that near fatalities are reduced to running gags eventually. Suspense and tension devolve into physical comedy. Control—of effects, of timing, of editing—could have turned the sequence around. It were as if everyone in charge of helming the picture fell asleep at the wheel. It's depressing.
Although science is thrown out the window, I enjoyed how the filmmakers find the time to explain how solar flares (releasing particles called "neutrinos") lead to the destabilization of the earth's mantle. Yes, it's ridiculous. That's not a question. But I think those who have little or no knowledge of geology and physics can follow the movie's logic because the animation is presented in a clear and precise manner. This short segment reminded of James Cameron's "Titanic," specifically the computer model that showed how water moved from one compartment to another which led to the sinking of the purportedly unsinkable ship.