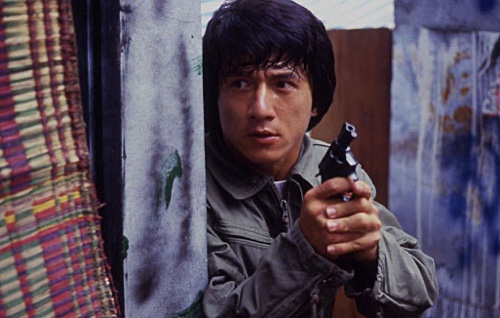 Police Story (1985)
★★★ / ★★★★
Right from its opening sequence which involves a sting in a squatter area, "Police Story" proves to be no ordinary action picture. Director Jackie Chan, who also stars as Ka Kui, a cop for the Royal Hong Kong Police Force, demonstrates his keen eye for location, the people who take up space in a particular area, and how they move, whilst interacting with the environment, when chaos is turned up to 11. This sets the tone for the film. On the surface, there appears to be pandemonium. But look closer and realize there is great control—discipline—in how action is set up and executed while incorporating happy accidents along the way to create an exciting, fun, and unique final product. There is plenty to appreciate here.
One is Chan's penchant and talent for doing his own stunts. There is electricity and intention behind every move: whether he's throwing a punch or the one avoiding it, whether he's dangling off a double-decker bus with an umbrella, or whether he's sliding down a pole—smashing glass along the way—several stories high. The eye-popping and jaw-dropping sequences demand attention. Even more impressive is when Chan is required to lug another actor around as their characters get themselves in sticky situations.
But the magic is not just the actor doing his own stunts, you see. Observe a little more actively and note how Chan always accompanies his physical prowess with easily readable emotions on his face. His expressions help to amplify the mood of a scene. Compare the silliness that unfolds in the apartment of a key witness (Brigitte Lin) Ka Kui must protect so she can testify in court the next day to the desperate, nail-biting final confrontation in a mall. Chan delivers a real performance; he steps on set not as a stuntman but an actor who just so happens to do his own stunts. It makes a whole world of difference, especially considering the fact that the work is prone to sudden shifts in tone.
For the most part, the picture commands a comic feel: mistaken identities, the ennui of the every day while on the job, ironic details among cops, lawyers, and crooks. It is a movie that works hard to make us smile. In just about every scene, a wink can be found. Even when Ka Kui steps on manure, the obvious comedy is never treated as the punchline. But when it changes gears suddenly—a cop who struggles to shoot at suspects in the middle of an operation, when a girlfriend is thrown down a flight of stairs—it is jolts us into paying attention. Chan is the anchor—as actor and director—that holds the ship together. He doesn't rely on charm.
I wished we got to know more about the main woman in Ka Kui's life, particularly the girlfriend, May (Maggie Cheung), who appears to have more in her than simply looking concerned. Our protagonist seems to love her, but we never get a chance to see them engage in real conversations. At times I felt annoyed that just when May is about to say something of substance, possibly about his safety (or lack thereof) in his occupation, she finds herself cut off by the more dominating personalities. This is not a knock on Cheung, but I felt her talent can be utilized better in slower, thoughtful stories. This one zips along with energy to spare.
Despite this shortcoming, "Police Story," delivering astonishing practical effects right after another, is a delight from start to finish. Even the final minutes dare to hint at a deeper conversation surrounding limitations cops come across when facing men who possess considerable wealth, power, and influence. There is suggestion that everyone is just dancing around the fire. Ka Kui makes a decision. And there is catharsis.