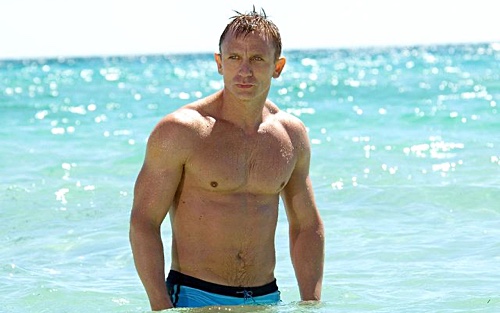 Casino Royale (2006)
★★★★ / ★★★★
Martin Campbell's "Casino Royale" consists of only three major action sequences and the rest is a high-stakes poker game. Yet it remains to be one of the most entertaining James Bond pictures—certainly the most emotionally complex because it humanizes our hero. One of the reasons is its confidence and skill and slowing down overt elements, at times to the point of minimization, that typically define a 007 movie.
It is willing to regale us with words—not just fun, cheeky repartees but actual conversations between highly intelligent and insightful characters, specifically between Bond (Daniel Craig), a newly minted 00 agent for the British MI6, and Vesper Lynd (Eva Green), an agent assigned to finance our protagonist during the titular poker game in Montenegro. At times listening to their dialogue is like being tickled with a feather. There is electric chemistry and a sensuality that emanates from the two. They can simply sit across a table while trading knowing looks and the silent exchange makes us smile. The longer this goes on, the more is revealed between James and Vesper while keeping us mindful of the stakes—why it is paramount that Bond must succeed in preventing a terrorist fancier named Le Chiffre (Mads Mikkelsen) from winning over a hundred million dollars. The screenplay by Neal Purvis, Robert Wade, and Paul Haggis is alive and so we are receptive to every minute plot and character development.
Most sign up for a Bond picture due to the promise of impressive action pieces. It is without question the film delivers. The first big action scene takes place in Madagascar. It requires Bond to chase a bomb maker who is not only fast but also incredibly athletic. Just when you think the man is cornered, he finds a way to slither through the cracks. And so we observe Bond's resourcefulness in trying to make up the distance. A surprise is thrown onto our laps every ten seconds. Comic moments are thrown in there for good measure. It becomes so ludicrous that Bond and the person of interest are climbing and jumping off cranes like spiders. The level of energy builds and builds until no longer tenable. Fight choreography grows more complex. But also notice the beauty of these sequences, especially when at high elevations. A person with acrophobia is likely to experience a gut reaction.
This is only one action scene. There are two others that are equally terrific to sit through. But they are entertaining in different ways. Notice, too, the type of chases do not repeat. And the immediate stakes are always different. Even these adrenaline-fueled scenes tend to reveal something new about our main character. This is the strength of "Casino Royale." We are seemingly presented one thing, but so many gears are working together that the experience is informative and enthralling. The punchline is never having to shoot a gun. It is about the mission; success or failure is a given and so repercussions are treated with real gusto.
It would be remiss of me not to compliment the wonderful performances. Craig possesses a knack for being cold-hearted one minute and the next there is a vulnerability to him that you wish to get to know. That's critical because I believe that is one of the traits that made Vesper curious about the assassin. Green, too, is exquisite. Every line uttered is like silk caressing the eardrums. There is a knowing in those eyes that makes you want to lean in and study her. And speaking of eyes, Mikkelsen imbues an enigma to a villain with a simple goal: survival. When sitting at that poker table, we feel that desperation to win. Because if he loses, he dies—fitting for someone who brazenly uses his clients' money to gamble with stocks.