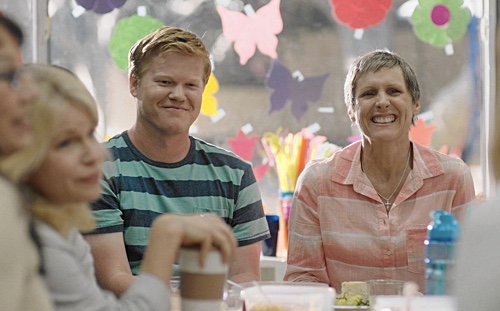 Other People (2016)
★★★ / ★★★★
Other people uproot their lives from the city to move back home in the suburbs. Other people lose out on dream jobs. Other people's relationships crumble and find themselves starting over. Other people must put their lives on hold in order to take care of their loved ones who have been diagnosed with cancer. That is, until it happens to you. This is the situation that David (Jesse Plemons) finds himself in, a gay man living in New York City as a comedy writer. Writer-director Chris Kelly is able to tap into the natural ebb and flow of comedy and drama in a way that feels fresh, exciting, and freeing. He is concerned with details, like his characters being Sacramento-based, and so when the expected comes around, there is substance behind the punches.
The story opens with a family bawling their eyes out while in bed after having discovered that their mother and wife (Molly Shannon) has passed away. "Oh, it's another one of those movies," I thought. But then the telephone rings. A voice of an energetic woman has just heard that her friend is sick—the word "cancer" is never used—so the voice wishes to know how Joanne is doing. The caller just happens to be at a drive-thru and attempting to get her order right. We sense her priority. To this woman, this friend, Joanne is "other people," you see. "Oh, so it's not one of those movies," I thought. And it turns out to be much more.
I enjoy movies that throw us into the middle of the action and it is up to us whether to sink or swim. In this film, notice that if you walk away for a minute to grab some snacks from the refrigerator, it is entirely possible to miss a line or two that touches upon a character's history. This is not a comedy that is funny because of the jokes. Rather, it is a comedy that is funny despite the jokes due to its observant nature. I felt as though the writer-director came from the suburbs and so he knows how people from small towns speak, behave, and express themselves. And yet the screenplay does not belittle them. It just shows.
Plemons is quite captivating in this film. He plays David as a painfully ordinary gay man who loves his mother deeply. Plemons walks on a tricky rope in that he must convince us that David wishes to be there—really be there—for his mother but at the same time being back home costs so much in terms of his personal and professional lives. That push and pull between what must be shown versus what must be hidden creates wonderful drama in the character. Plemons makes it look effortless; we sympathize and empathize with David all the way through even though at times we know (and he knows) he could have made better decisions in retrospect.
Shannon is also terrific. I saw my mother in her portrayal of Joanne as this loud, vivacious woman whom you cannot help but look at when she enters the room. The opening scene, which shows this woman's death, is correctly placed so that we appreciate her more when watching her just living her remaining days. There is drama in the juxtaposition of a high-spirited woman and a wilting thing whose voice can barely be heard even from just six feet away.
Shannon may not be on screen as much as Plemons, but her role is key to David's sense of self. In a way, Joanne is his compass even though their relationship when he came out of the closet a decade ago was far from perfect. (The Mulcaheys are religious and conservative.) David's father, Norman (Bradley Whitford) still has not come to terms with his only son's homosexuality. There is a lot of pain to be mined there, but I appreciated that the filmmaker has found humor in that situation, too.
"Other People" is more dynamic than the average comedy-drama—and far more observant. We meet some characters here who appear in one or two scenes and I wanted to follow them, to learn what they're about. For example, David's grandparents live in a mobile home. That visit is so awkward for David, but at the same time I wanted to stay for cookies and listen to gossip. The grandparents have a sense of humor about them that is unlike the rest of the characters we meet. Clearly, the movie is helmed by a filmmaker who loves the idea of family and how our histories shaped us as the persons we've become.