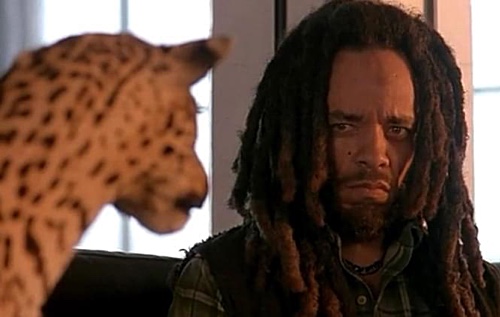 Surviving the Game (1994)
★★ / ★★★★
"He's a homeless piece of shit. He's nothing. He's less than nothing."
And so the hunt begins between predators and prey in "Surviving the Game," an action-thriller directed by Ernest R. Dickerson that could have benefited from a more polished screenplay. There is an idea worth exploring here: the rich, most of them white, literally hunting down a poor black man like an animal in the woods for the sake of "therapy," entertainment.
As an action picture, its chase sequences are only mildly entertaining. There are only so many ways to show Ice-T, playing Jack Mason, a military veteran who became homeless after the death of his wife and daughter, running away from the highly privileged men who wish to murder him for sport. About halfway through, not even Ice-T's approach of embedding humor in Mason's desperation—as if to acknowledge that the plot itself is preposterous—is able to keep the movie afloat. A pattern emerges: Every other scene a hunter drops dread punctuated by our protagonist sustaining a fall or a minor injury only to end up fighting back again. It becomes somewhat of a bore eventually because there is a flatness in how the chases are shot; there is only occasional catharsis to the much-deserved kills.
The screenplay by Eric Bernt is not written sharp enough for the work to be considered an effective satire. For instance, I enjoyed there is one black man (Charles S. Dutton) among the hunters who is the right-hand man of the ringleader (Rutger Hauer). He is not quite the Uncle Tom character, existing to serve his white master, but neither do we get a sense he is a completely independent figure who is above his black identity. Cole is somewhere in between which makes him rather dull. Why have a minority character among the villains when you are not willing to take it all the way so that there is power behind the punchline? It is a waste of a character; imagine this role being played by a white man and there is only minimal difference.
Another missed opportunity: There is a white teenager among the group who is shocked upon the discovery that this is no typical hunting trip. (His father, played by F. Murray Abraham, requires that he be there because his son is "becoming too much like [his] mother.") This should have been a key character because a) he is white, b) he is outside of the average age group of the group and c) it is not his choice to attend. Derek (William McNamara), like Cole, is written in a middle-of-the-road fashion and so he has nothing to do other than to utter lines showing disapproval. These potentially curious characters are wasted in terms of the big picture, the message that the movie is trying to communicate in regards to race and class in America.
Or is it actually saying something? I marveled at this question somewhere in the middle because none of the balls being juggled in the air are particularly interesting. Surely there is tension during the setup—up until Gary Busey's scene-stealing performance where his psychiatrist character, also one of the hunters, explains to Mason why he considers the scar under his eye to be a birthmark—but the latter half is a drag for the most part. For a story that promises thrills and excitement, I witnessed a lack of energy and craft.