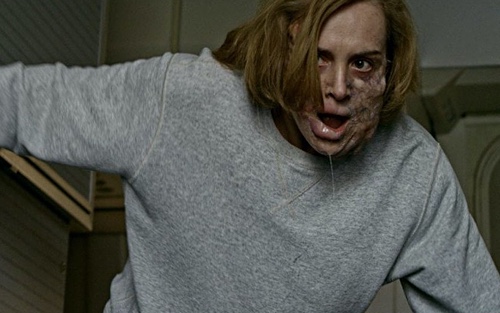 The Carrier (2015)
★ / ★★★★
The survival thriller "The Carrier," directed by Anthony Woodley, suffers from a lack of tension, suspense, and common sense. It seems unlikely to fail because a chunk of the story takes place inside a plane with infected people aboard. One touch from those housing the deadly bacteria can render another to grow massive tumors—often on the face— in a matter of minutes. There is no cure for the disease. According news reels, this strain of bacteria came about due to multiple drug resistance (MDR). As it plods along in a most brainless fashion, it becomes all the more apparent that the problem lies in the screenplay. Although four writers are involved (Woodley, Luke Healy, Helen Kingston, Stefan Mitchell), it appears not one possesses a thorough understanding of what makes a thriller engaging. In the middle of it, I wondered if they'd seen zombie movies. Because if they did, they'd know that the most effective ones are not really about the diseased (or deceased) but the living.
There is not one character worth rooting for. There are nice ordinary people aboard (Zora Bishop, Maria Adams, Healy), but this is not enough to create a compelling protagonist. Nice can quickly lead to boredom, as demonstrated here, because the decisions he or she makes become predictable. Always doing the right thing is not always right if you're interested in building tension. As for the more unpleasant characters (Edmund Kingsley, Joe Dixon), it is all behavior. Clearly, the goal is to survive, but we never get a sense of how these figures think and make decisions that could kill or infect another. Context matters in a movie like this, particularly when morality is involved, but the writing is so skeletal and black-and-white that events occur simply because something, anything must happen.
What about the disease in question? Does it have a name? Is a percentage of the population immune? We don't learn anything new or surprising about it. The media mentions MDR, but what makes this disease special or unique to this particular story? In other words, what makes this story worth telling within the context of this fatal disease? We do not even learn details regarding how it started or how it became a pandemic. Again, the screenwriters underachieve.
Tumors take over one's face once infected. The makeup effects are preposterous, almost laughable. I got the impression masks were purchased from the dollar store and modified just a little, if that. Watch carefully. When an actor moves a certain way or when he angles his face in a particular manner relative to the camera, observant viewers are able to see the seams. It is so poor quality, it's completely distracting. How are we supposed to buy into the drama, to feel sorry for the infected being abused, when a mask looks like it is about to fall off? Even on surface-level entertainment, it fails.
"The Carrier" is not a movie to watch but to be endured. It has nothing of value to say or do. It is without purpose or conviction. It just… exists. I would like to ask the filmmakers what inspired them to make the movie when there are zombie and disaster films available that actually attempt to make a statement about our environment, our place on our planet, and our flawed humanity. As for the studio and executives: Why not simply donate the film's budget to the poor? Because if they couldn't make something good, the least they could done was to try to do good.