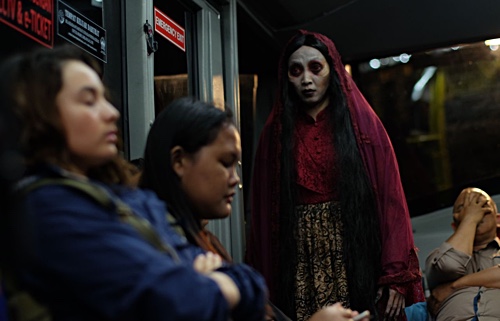 May the Devil Take You (2018)
★★ / ★★★★
In the middle of this overlong supernatural horror film from Indonesia, I couldn't help but admire Timo Tjahjanto's willingness to put every trick he's learned from '70s and '80s terror flicks into a blender and then force the mixture down our throats until we grow sick of it. It cannot be denied that the writer-director of "May the Devil Take You" loves both horror movies and horror images. But it also cannot be denied that the screenplay lacks critical details that would allow the story being told to stand out from its classic inspirations (Sam Raimi's "The Evil Dead," William Friedkin's "The Exorcist," to name a few) and modern contemporaries.
It starts off with great potential. Lesmana (Ray Sahetapy) is desperate to become rich and so he makes a deal with the Devil through one of its priestesses (Ruth Marini). The opening sequence is inspired because it feels specific to a culture. Sure, we get the usual blood sacrifice, circle of magic with a star in the middle, and creepy incantations. But what witchery involves, for instance, having to consume a lock of hair? It gets stranger from there. It is near impossible not to watch wide-eyed as bizarre images flood the screen. The introduction promises freshness, boundless energy, a good time.
But it is a nosedive from there. For years, Lesmana experienced financial success, particularly in making investments, but when he is required to pay the second time, he finds himself unable to deliver. Years pass and Lesmana is on his deathbed with a mysterious illness. His biological daughter, Alfie (Chelsea Islan), who he has not seen for a decade, decides to visit, perhaps to say goodbye. But Alfie is not the only visitor. From the moment she stepped into the hospital elevator, she feels there is a presence. Initially she chalks it up to exhaustion, her mind playing tricks on her. But then it appears again behind a hospital curtain, right next to her father.
And so we go through the oft traverse parabola of a loved one visiting a mysterious place out in the country in hopes of finding answers. In this case, Alfie goes to her father's abandoned villa to find something that might help to cure Lesmana's affliction. There is a curious angle to be had here. Unlike Alfie, Lesmana's second wife, a former actress (Karina Suwandhi—quite villainous but ultimately underused), and his three stepchildren (Pevita Pearce, Sam Rafael, Hadijah Shahab) are already on the scene—not to find answers but to acquire valuable items they could sell. It is obvious that this is not just a story about having to fight the Devil.
It is also about biological and adoptive children finding commonalities through tragedy. A few questions worth considering: What does Lesmana mean to Alfie when he hasn't been a father to her for a decade? What does Lesmana mean to his stepchildren when it is apparent that their mother loves his money more than the man? And how might the children move forward should Lesmana die? It doesn't work because the dramatic foundations are largely absent.
More effort is put into how to make human levitation look convincing, how to make a possessed person crawling up the walls as creepy as possible, how to make breaking or cutting limbs look extremely gross and painful. While these horror images are given appropriate love and care, and some of them are quite impressive, it's a challenge to become emotionally invested in the story when a similar level of effort is not given to character details and relationships. When new bonds are formed and then broken later on, notice it is a struggle to feel a thing. So then what is the point of telling this particular story? It might as well not have been told at all.
"May the Devil Take You" shows that just because inspirations are there doesn't necessarily mean a picture is able to stand strong on its own. While it isn't a requirement to be original, the human factor must be well-defined, it must possess a certain flow so that we buy into the changes the characters undergo, and it must make sense from an outsider's point of view so we are able to sympathize and empathize with whatever is going on. Here, somewhere along the way the human element becomes an afterthought.