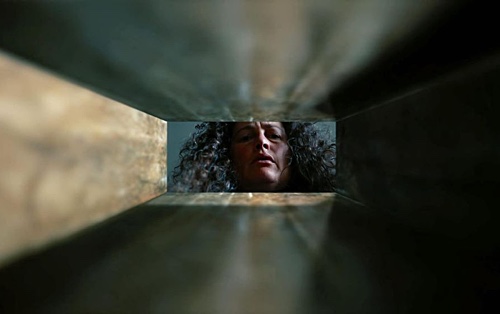 The Deeper You Dig (2019)
★★ / ★★★★
Here is a ghost story that doesn't rely on apparitions popping out of corners to create entertainment. For the most part, the ghost is in the mind of the beholder. It is there when one sleeps, as he takes out the trash, as she sits on the porch while eating dinner. A ghost can be overwhelming sadness, indefatigable guilt, the nagging question of what actually happened to a loved one who simply vanished one day. "The Deeper You Dig" might have limited budget, but its vision is unchained. I wished its third act were as strong as what came before.
"The Deeper You Dig" is a two-fold story and it is co-written and co-directed by John Adams and Toby Poser. They star in it, too. The first perspective is through the eyes of a mother named Ivy (Poser) who appears to have—or have had—some connection to the paranormal. She makes a living as a fortuneteller. Not three hours since her daughter Echo (Zelda Adams) went missing, Ivy already knows something has gone wrong. The second frame of reference is through the experiences of Ivy's neighbor named Kurt (Adams). While driving home after a night of drinking, his truck hits Echo while she was night sledding. Instead of taking responsibility for the fourteen-year-old, Kurt decides to hide the body.
Notice the filmmakers' level of control. Take away all of the overt elements—floating spirits, bodies dissipating in black smoke, and the like—and the picture becomes more potent. The reason is because the emotional crux—knowing versus not knowing—is tethered in realism. Misery is drawn all over Ivy's face as she searches desperately for answers. Meanwhile, Kurt is constantly under torment; he looks like the walking dead because although his body sleeps, his head is wide awake. No matter the perspective we adopt, a feeling of foreboding doesn't let up. Big budget horror films can learn a thing or two from this family project.
The story is not without creepy moments. For instance, Ivy's job is initially played for laughs. There is an older woman who wishes to communicate with her deceased husband. She so badly wants to talk to him that eventually she decides to put an extra fifty bucks on the table in order to inspire the psychic to try a little harder in establishing communication with the dead. We snicker… until our smiles are wiped off almost immediately when a whisper is heard. It is Echo's voice. But she's not dead. Clearly, the picture's idea of a ghost is different from what typically expect. The film offers its own rules and so we try to figure them out. We're engaged.
One character wants to know, the other wishes to forget. This duality is curious and so events that transpire during the final twenty minutes is quite disappointing. We already know that Kurt and Ivy must clash eventually. But must it involve having to wrestle on the ground as they clamor for weapons? Because the rest of the work is elevated, surely the creative team could have found a way to end their piece in a manner that is equal to or worthy of their ambition. Regardless, because of its efforts and the chances it is willing to take, I am giving the picture a marginal recommendation.