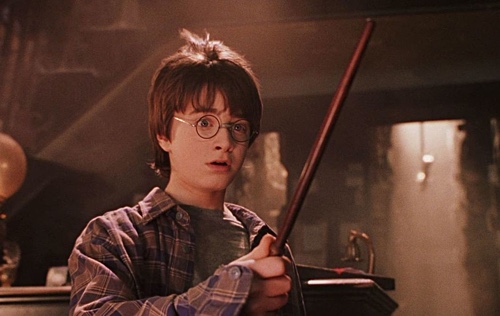 Harry Potter and the Sorcerer's Stone (2001)
★★★★ / ★★★★
You're a wizard, Harry.
Nearly every moment of Chris Columbus' "Harry Potter and the Sorcerer's Stone," based on the novel by J.K. Rowling and adapted to the screen by Steve Kloves, is an invitation—an invitation to smile at its optimism and wholesomeness; to hold your breath in anticipation whether it be during a Quidditch match between the rivaling Gryffindor and Slytherin houses or a night stroll in the forbidden Dark Forest where a foul creature feasts on unicorn blood; to marvel at the sheer size of ancient castles or the most minute details inside moving paintings; to wonder at the secrets yet to be discovered within its world of witchcraft and wizardry.
Although a case can be made that the picture is overlong, it is a terrific opening chapter precisely because it goes out of its way to present details that escape run-of-the-mill fantasy-adventures. Consider a trip to Gringotts, a bank run by goblins, after half-giant Hagrid (Robbie Coltrane) whisks eleven-year-old Harry Potter (Daniel Radcliffe) away from his abusive, non-magic ("Muggles") adoptive parents (Fiona Shaw, Richard Griffiths) and spoiled cousin (Harry Melling).
The film not only takes its time for viewers to appreciate the sheer majesty of the place, from its high ceilings and crystal chandeliers to its scintillating floor and towering marble pillars, the camera readily functions as a microscope. Notice the way it fixates on the bank teller, who is a goblin, the sharpness that can be found deep in its spectacled eyes when disturbed from its work, its short-tempered predisposition when spoken to. We are invited to stare at its rubbery skin, how its mitten-like hands are almost as big as the goblin's face. We wonder about its age, perhaps even what it eats for nourishment. Do they have their own language?
It goes on like this. A curious creature or object, like an invisibility cloak or a state-of-the-art broom, is introduced and the filmmakers ensure we are in the middle of the action with rapt attention. It is never enough to show or mention a curiosity. It must be demonstrated. Then it must be applied when Harry and his friends go on to investigate the mystery surrounding the possibility of Voldermort's return, the notorious dark wizard who murdered Harry's parents and the one responsible for the lightning bolt-shaped scar on Harry's forehead.
Because every scene invokes the feeling of opening a Christmas present, we are motivated to look forward to small and big surprises as a new day begins in Hogwarts, a school for young witches and wizards led by the warm and calming Headmaster Albus Dumbledore (Richard Harris). The picture may be episodic and, yes, even drawn out at times. But it is never boring or repetitive. I admired it precisely because it is untethered from the usual parabola and pacing of dramatic storytelling. It adopts its own rhythm.
This joyous quality of the picture is not strictly limited to visuals. The dialogue possesses a cheekiness to it, a palpable personality, whether Harry is hanging out on a train ("Hogwarts Express") or in the Gryffindor common room with his best friends Ron (Rupert Grint) and Hermione (Emma Watson) or Harry being humiliated in front of his peers by Potions professor Severus Snape (Alan Rickman—spot-on casting) for his excessive fame but embarrassing lack of knowledge. Every character is provided a specific voice and being. Even when they are not in the scene, sometimes we wonder why they are the way they are.
It is amazing that although supporting characters like Professors Snape, Quirrel (Ian Hart) and McGonagall (Maggie Smith) have fewer than twenty lines of dialogue to work with, they are memorable. These consummate performers milk not only every line but every moment. A pause between words or a pointed look communicates paragraphs. And although there are a wealth of personalities in Hogwarts, all of them feel like they belong. This is the result of a screenplay wise enough to take its time so that the setting is completely realized.
A hundred years from now, children and adults alike will watch "Harry Potter and the Sorcerer's Stone" and derive great entertainment from it. Its CGI may have aged (for instance, the mountain troll attempting to knock off Harry from its shoulders is laughable now), but not its colorful personalities, creative ideas, and careful attention to detail. Even the score by John Williams is transportive, readily able to metamorphose from thrills and excitement to lamentation and longing a drop of a Sorting Hat.