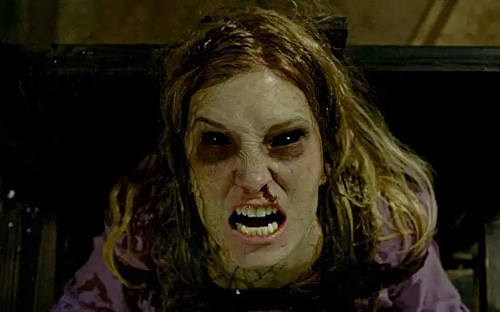 The Cleansing Hour (2019)
★ / ★★★★
Selling one's soul in order to get recognition on social media is an idea worth exploring in "The Cleansing Hour," based on the screenplay by Damien LeVeck (who directs) and Aaron Horwitz, but the picture is so bogged down by ostentatious exorcism tropes that it feels as though half of its running time is dedicated to showing what viewers expect, from objects being flung across the room to characters meeting gruesome fates, rather than delivering what is right for the story being told. What results is a work that gets mired in special and visual effects—empty, repetitive, tiresome—while its more notable ideas take a back seat.
The plot revolves around best friends Drew (Kyle Gallner) and Max (Ryan Guzman) who live stream fake exorcisms. Although they have a sizable audience who actually believe that such exorcisms are real, Drew, who works behind the camera, thinks they can draw in more people by expanding their toolkit outside of exorcisms. But Max, the star of the show, doesn't care to do so; he is happy just to be recognized by fans, perhaps even sleep with them once in a while. He does, however, wish that he be verified on social media already—for that blue check is a mark of influence, of authority. You see, even on the level of character—money versus fame—there is something worth looking into. Yet the drama is never mined.
A movie like this is further evidence that exorcism movies can be deceptively simple. It is not about creepy demonic voices, learning a demon's name so it could then be expelled from its host, or showing excessive gore and projectile vomiting. Successful exorcism movies are about our latent fears, desires, trauma embedded in our subconscious.
In this story, the heart of the picture is the friendship between Drew and Max. Flashbacks are employed to show us that the two have known each other since they were children and have endured various torment in school in the hands of a nun. Perhaps this trauma remains to be the glue that binds Drew and Max even though their friendship has become twisted, perverted, unhealthy, one-sided. Notice that without these flashbacks, there would be nothing of note about the duo. The actors share no believable chemistry nor does the screenplay bother to go out of its way to underscore that even though the relationship has been reduced to a business, the two would remain to have each other's backs—just like when they were children.
And so there is no drama. When faced with a demon (Drew's fiancée is used as a host, played by Alix Angelis), we simply sit back and watch Drew and Max scramble about, scream in horror, and look directly to camera as they confess their sins to their fans. Cue the fans' concerned expressions. We are detached from their plight, knowing that it is only a matter of time until the demon goes about its usual bodily contortions and psychokinesis.
Another disappointment: For a story that places emphasis on social media, the camera does not linger long enough on the stream of comments being submitted by fans. There is a disconnect. We see faces of select concerned viewers—from Washington D.C., South Korea, to Israel—but some of the comments (from what I gathered between quick glimpses) are quite negative, relishing on the violence that's unfolding. Why not also show the faces of those who thrive on schadenfreude—regardless of whether they believe a real exorcism is happening? Even on this basic level, the work fails to paint a fuller picture.