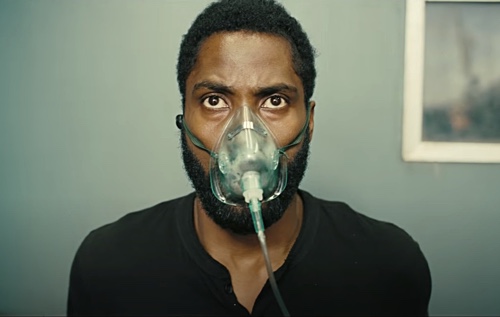 Tenet (2020)
★★ / ★★★★
.msimanyd ytpme dna ,noitucexe cireneg ,saedi dekcoc-flah fo tcejorp a ",teneT" ni dah eb ot yoj on tsomla si ereht ,trohs nI .eseirF ejtnaJ dna radO ob naroB yb detaerc-oc "kraD" dellac seires lanigiro xilfteN a ni—htiw deyalp dna—denimaxe retteb era ereh saedi dna semeht fo lufdnah a ,tcaf nI .levart emit gnidrager elgna wen a ecneirepxe ot hsiw ohw sreweiv rof ton si ti dnA .ton ro detalumis ,regnad ro ksir laminim gnireffo ,naelc ,dehpargoerohc oot era stnuts eht fo tsom ,gnidliub a otni gnihsarc enalp a morf edisA .rehtie seivom noitca larecsiv evol ohw sreweiv rof ton si tI .drallud a gnieb morf devomer nisuoc eno ,etil-larberec si tI .yteicos nredom a sa ro seiceps a sa su tuoba yas ot eulav fo gnihton sah tI .noitcepsni esolc fo yhtrow eb ot hguone deliated ton si ereh detneserp esrevinu ehT .noitcif-ecneics ro ecneics evol ohw sreweiv rof ton si tI .rof si eivom eht ohw erus ton m'I
.level txen eht ot tfarc sih ekat ot hsiw ohw rekammlif a sa etanoissap tsom sih ta eh si roN .relletyrots a sa tseb sih ta naloN ton si siht raelc si tI .ekaf ,decrof ,suounegnisid ssorca emoc setunim gnisolc s'eivom eht gnirud stnemom gniggut-traeh eb-dluow ,tseb ta suounet era snoitcennoc eseht esuaceb dnA .slaog lanoisseforp dna lanosrep rieht hsilpmocca ot tca driht eht gnirud maet a sa krow yeht taht deriuqer si ti esuaceb egnarts—evitcelloc a sa ro yllaudividni ,snoitavitom dna spihsnoitaler rieht fo )noitaicerppa dna( gnidnatsrednu hguoroht a dedivorp era ew taht os peed gid dna nwod wols ot srehtob reven lairetam eht ,ylevitcepser ,)hganarB htenneK( hcragilo naissuR a fo efiw eht dna reldnah s'tsinogatorP gniyartrop ,ikcibeD htebazilE dna nosnittaP treboR ,srats-oc sih htiw yrtsimehc serahs notgnihsaW hguohtlA
).otni detsurht si eh yenruoj dam eht fo skniht eh tahw fo espmilg a nevig ew era ecno ton taht ,ecnatsni rof ,evresbO( .oreh a fo erutacirac eton-eno a gniyalp kcuts si ohw tnelat elbaredisnoc fo remrofrep a ,notgnihsaW divaD nhoJ yb deyalp si eh dna )llor-eye na sevresed noisiced yhtrow-egnirc siht ,sey( tsinogatorP sa ylno nwonk si retcarahc dael ruO .erutuf eht morf emoc smeti eseht taht deveileb si tI .yad eht yb tnelaverp erom gnimoceb era hcihw yportne detrevni denoitnemerofa ssessop taht smeti fo ecruos eht revocnu ot detiurcer si tnega AIC a ,siht eveihca oT .ytinamuh lla fo dne eht tneverp :emoc yeht sa derit sa si emagdne ehT
.snoitaroced hcus yb deloof eb ton lliw sreweiv gninrecsiD .neercs no gniripsnart si latnemunom gnihtemos taht noisulli na etaerc ot )2 dna moderob eht tuo nword ot )1 dengised erocs lortnoc fo tuo na yb dekcab seugolaid yrotisopxe fo seires a ot decuder si ti ,elcatceps s'erutcip siht yawa pirts uoy fi taht ecitoN .yenom yb thguob eb nac taht tnemele rehto yreve—srewoprevo ,on—senihstuo ti taht ,lla dna swalf ,thgirb os ytinamuh eil tsum snwonknu elbanigaminu dna ,sdlrow neila suoiretsym ,saedi xelpmoc tsom eht htaenrednu tahT :noitcif-ecneics fo stenet cisab eht fo eno nettogrof dah naloN fi sa erew tI .amard namuh gnivlovni ,gnicnivnoc a ton tub tolp enihtnirybal ylriaf a ,snoitpecxe ton tub selur dedivorp era eW .nonemonehp gnitanicsaf siht erolpxe ot enod si hcum ton esuaceb si nosaer ehT
.enaw ot dnet tnemeticxe dna ytisoiruc ruo ,desicrexe si ti erom eht ,revewoH .elims em edam ti ;kcirt cigam taen a hguorht gnittis ekil si ecneuqes siht gnihctaW .)drawkcab( nug eht yb thguac gnieb tellub a yllautca si )drawrof( tohs si taht nug a ,suhT .drawrof fo daetsni emit ni drawkcab gnilevart eb ot deviecrep si ,noitca ni nehw ,citsiretcarahc a hcus sessessop taht tcejbo na woh—elpmaxe na hguorht yportne detrevni fo tpecnoc eht gninialpxe tsitneics a sevlovni tuodnats ylrae nA .evisnepxe ,lufituaeb ,suoiruxul ,gnippop-eye gnihtemos reffo tsum enecs rehto yreve ylraeN .deined eb tonnac taht tcaf a si sihT .stceffe lausiv dna laiceps fo esacwohs a si "teneT"
.gnihtemos tuoba yllautca er'yeht hguoht sa ssorca emoc stcejorp eseht tsael tA ".ainmosnI" cifirret tub elbmuh eht dna "otnemeM" tnellecxe eht demleh ohw naloN eht rof nraey em edam ti ,ti fo dne eht yB .tegdub noillim derdnuh owt sti fo tnecrep net ylno nevig neeb rotcerid-retirw eht dah yltnereffid pu dedne evah thgim erutcip eht woh rednow tub pleh t'ndluoc I ,hguorht yawflaH .rettal eht sesoohc syawla tsomla yalpneercs eht ,elcatceps dna )gniwollof pu dne ew sretcarahc suoiruc eht ro sehcaorb ti stpecnoc lacixodarap eht ot drager ni rehtehw( sisylana tneitap neewteb eciohc eht nevig esuaceB .ti fo tuo denaelg eb nac eulav fo hcum ton—ynitsed ro etaf susrev tceffe dna esuac ,emit fo wolf eht eviecrep ew woh ,ygolonorhc esrever ,yportne detrevni dellac-os—saedi gib yb delleporp si tcejorp tsetal s'naloN rehpotsirhC hguohtla taht cinori si tI
—
It is ironic that although Christopher Nolan's latest project is propelled by big ideas—so-called inverted entropy, reverse chronology, how we perceive the flow of time, cause and effect versus fate or destiny—not much of value can be gleaned out of it. Because given the choice between patient analysis (whether in regard to the paradoxical concepts it broaches or the curious characters we end up following) and spectacle, the screenplay almost always chooses the latter. Halfway through, I couldn't help but wonder how the picture might have ended up differently had the writer-director been given only ten percent of its two hundred million budget. By the end of it, it made me yearn for the Nolan who helmed the excellent "Memento" and the humble but terrific "Insomnia." At least these projects come across as though they're actually about something.
"Tenet" is a showcase of special and visual effects. This is a fact that cannot be denied. Nearly every other scene must offer something eye-popping, luxurious, beautiful, expensive. An early standout involves a scientist explaining the concept of inverted entropy through an example—how an object that possesses such a characteristic, when in action, is perceived to be traveling backward in time instead of forward. Thus, a gun that is shot (forward) is actually a bullet being caught by the gun (backward). Watching this sequence is like sitting through a neat magic trick; it made me smile. However, the more it is exercised, our curiosity and excitement tend to wane.
The reason is because not much is done to explore this fascinating phenomenon. We are provided rules but not exceptions, a fairly labyrinthine plot but not a convincing, involving human drama. It were as if Nolan had forgotten one of the basic tenets of science-fiction: That underneath the most complex ideas, mysterious alien worlds, and unimaginable unknowns must lie humanity so bright, flaws and all, that it outshines—no, overpowers—every other element that can be bought by money. Notice that if you strip away this picture's spectacle, it is reduced to a series of expository dialogues backed by an out of control score designed 1) to drown out the boredom and 2) to create an illusion that something monumental is transpiring on screen. Discerning viewers will not be fooled by such decorations.
The endgame is as tired as they come: prevent the end of all humanity. To achieve this, a CIA agent is recruited to uncover the source of items that possess aforementioned inverted entropy which are becoming more prevalent by the day. It is believed that these items come from the future. Our lead character is known only as Protagonist (yes, this cringe-worthy decision deserves an eye-roll) and he is played by John David Washington, a performer of considerable talent who is stuck playing a one-note caricature of a hero. (Observe, for instance, that not once are we given a glimpse of what he thinks of the mad journey he is thrusted into.)
Although Washington shares chemistry with his co-stars, Robert Pattinson and Elizabeth Debicki, portraying Protagonist's handler and the wife of a Russian oligarch (Kenneth Branagh), respectively, the material never bothers to slow down and dig deep so that we are provided a thorough understanding (and appreciation) of their relationships and motivations, individually or as a collective—strange because it is required that they work as a team during the third act to accomplish their personal and professional goals. And because these connections are tenuous at best, would-be heart-tugging moments during the movie's closing minutes come across disingenuous, forced, fake. It is clear this is not Nolan at his best as a storyteller. Nor is he at his most passionate as a filmmaker who wish to take his craft to the next level.
I'm not sure who the movie is for. It is not for viewers who love science or science-fiction. The universe presented here is not detailed enough to be worthy of close inspection. It has nothing of value to say about us as a species or as a modern society. It is cerebral-lite, one cousin removed from being a dullard. It is not for viewers who love visceral action movies either. Aside from a plane crashing into a building, most of the stunts are too choreographed, clean, offering minimal risk or danger, simulated or not. And it is not for viewers who wish to experience a new angle regarding time travel. In fact, a handful of themes and ideas here are better examined—and played with—in a Netflix original series called "Dark" co-created by Boran bo Odar and Jantje Friese. In short, there is almost no joy to be had in "Tenet," a project of half-cocked ideas, generic execution, and empty dynamism.