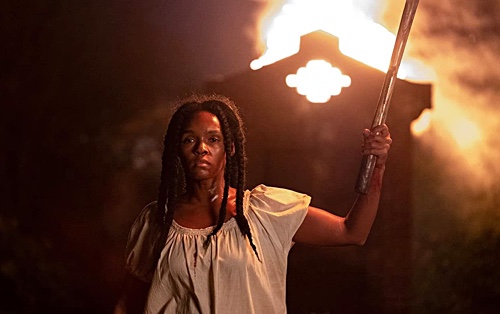 Antebellum (2020)
★★ / ★★★★
Gerard Bush and Christopher Renz' "Antebellum" makes a statement that although African-American slavery is bound in history books, racism and racial inequality persist to this day, that systematic oppression of non-whites, especially the black community, is embedded in our nation's marrow. While the intention speaks many painful and angering truths about where we are as a modern American society when it comes to race, it cannot be denied that the film is plagued by missed opportunities. For one, it relies too often on plot twists to shake the viewer out of ennui—ironic because it commands puissance when it simply focuses on how slaves are treated in a plantation run by Confederate soldiers (Eric Lange, Jack Huston, Robert Aramayo).
It is near impossible to describe the plot without giving anything away, but I will tread carefully. The thesis of the picture involves ghosts of the past having the power to linger and haunt the present. We follow Veronica (Janelle Monáe) in the plantation as she witnesses her neighbors being shot after having been captured for trying to escape, black bodies being cremated in a brick outhouse that's smaller than a shack, whites exercising their power in every look, breath, and implication. Notice that during these moments the camera possesses a certain level of alertness, so much so that it brings attention unto its itself. But why?
This is because although the surface is a drama, there is something far more sinister at play here. It is a horror film because it holds up a mirror on who we are as a twenty-first century society. Black people may no longer be picking cottons in the field till their backs are raw, black people may be able to participate in elections and hold positions of power, and black people are no longer whipped unconscious for simply giving a white man a certain look. But it doesn't mean racism has been uprooted. It's just that oppression has evolved, took on a different form. And so the movie changes form, too. When it does (without giving anything away), intrigue is thrown out the window.
I found it has nothing compelling to say about race or race relations. People of color live and breathe images that are portrayed on screen and so there is nothing surprising or revealing about them. In other words, the screenwriters have failed to relate or connect the movie's second form to its original state in a way that serves as a shock to the system. In fact, it does the opposite. The pacing gets mired in languor and the tone's urgency is spirited away. It becomes a struggle to care. It shouldn't be this way considering that fact that when you turn on the television these days, there is constant reminder that black lives are worth less than white lives.
"Antebellum" is a movie of the moment, but it lacks special insight that allows it to stand strong alongside, for example, Jordan Peele's "Get Out" and Remi Weekes' "His House." Showing brutality is not enough nor is providing a clever plot twist or two. Although it showcases beautiful cinematography, particularly outdoor shots of the plantation, this alone isn't enough either. The positive elements must be put together in a way that is rewarding and satisfying as a movie and as a statement piece, especially when its goal is to incite conversation.