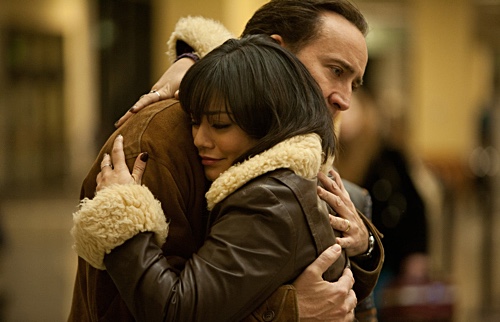 The Frozen Ground (2013)
★★ / ★★★★
For a movie that tells the capture of the most notorious serial murderer in Alaska, "The Frozen Ground" is bland, uninspired, a bad compilation of detective movies set in snowy small towns. There is a disconnect between its cold but unimaginative approach and its subject matter that inspires outrage. After all, since it is based on a true story, we know that to this very day corpses of young women remain buried across the state. A case can be made that although the killer, Robert Hansen (John Cusack), died in prison due to natural causes, he went to his grave victorious. And so why isn't the film more layered, more haunting?
In the middle of it, I couldn't help but wonder how the film might have turned out differently had a director like David Fincher been at the helm. While Scott Walker, in his debut picture, proves capable of presenting relevant facts and moving important figures across an event board, there is a lack of flavor in his approach. Particularly noticeable is a lack of rhythm between suspense and thrills. Observe how something must always be moving—the camera, the characters—for the movie to command a semblance of tension and excitement.
This is a problem considering that following subtle clues and paperwork is critical. A standout scene, for instance, involves a prolonged search for hard evidence in Hansen's house, but it contains a wrong approach: For the most part, it places viewers out of the action. A director of high caliber, like Fincher, would likely have chosen to place us in the middle of that search, with emphasis on desperate hands of those performing the search.
Switching perspectives between state trooper Jack Halcombe (Nicolas Cage), two weeks from retirement due to his occupation taking a toll on his family, and Cindy Paulson (Vanessa Hudgens), a seventeen-year-old prostitute who passes as twenty-three, is often rushed and off-putting. Although the screenplay briefly touches upon the relationship through the lens of a substitute parent and a child who lost her way (but wants to be found), there is a lack of realism in their interactions. When all else fails, it is ensured that we catch the teardrop rolling down one's cheeks. I snickered at its blatant approach.
Cage and Hudgens are committed, but the dialogue is like pulling teeth at times. It feels like every small but deeply personal moment they share functions as setup for the next chase or big plot development. As a result, we regard the cop and the prostitute as mere chess pieces to picked up and dropped off rather than real people who are desperate for closure. Cindy should have been especially compelling considering the fact that she is the only woman to have escaped from Hansen's clutches. What makes her special?
Even the movie fails to reach a boiling point when Cage and Cusack are finally in the same room. Here are two performers who can read the same lines in a hundred different ways. But line readings that made it onto film are generic, occasionally boring, colorless. At least the actors retain genuine emotions in their eyes. When all else fails, I found myself looking into their eyes and I felt as though I knew precisely what they characters wish to express despite a limited script. At the same time I felt the leads wanting scream and break out of the shackles that hinder them.
I think the writer-director wished so badly to make a movie that passes off as respectable to the point where nearly all of its life marrow is sucked right out of it. Debut features that fail to take risks are almost always dead on arrival. There is some interest here—why Hansen is drawn to prostitutes, placing us into the mindset of a victim who knows she's about to die, the many frustrations (and dangers) of gathering physical evidence—but these moments are pushed to the side just when things are getting interesting.
Why is this the case when specificity is the life blood of procedurals?