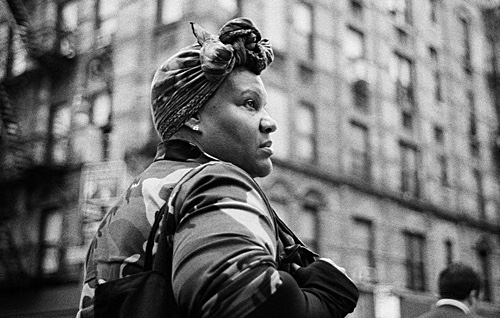 The Forty-Year-Old Version (2020)
★★★★ / ★★★★
The movie begins with a series of funny situations as we follow Radha (Radha Blank), an NYC-based black playwright who is struggling artistically and financially, from the moment those expressive eyes open till her cracking bones hit the hay. The next day begins and the cycle repeats. But just when we think we are accustomed to the formula, the picture disarms us by revealing nuanced layers about the artist, particularly how sad feels and how lost she has become due to the recent passing of her mother. Here is a story of a woman, three months shy of turning of forty, who is driven—desperate—to fill a void. Writing doesn't work. Teaching has staled. Perhaps this time it can be filled by becoming a hip-hop artist. Her persona is RadhaMUSPrime.
Blank also writes and directs "The Forty-Year-Old Version," autobiographical in nature and reeking of Spike Lee '80s joie de vivre. It is shot in black and white. Very talky. Humanist to a tee. Its humor is pointed and its love for the working class shines through. Neighbors are interviewed and they look directly at the camera. Then they electrify us with attitude and authenticity.
When these vivacious personalities move out of the frame, like the sassy old lady or the homeless man across the street, we feel there is more to their stories and so we wish to follow them. The same can be said about the multi-ethnic women engaging in rap battle in the Bronx. Or Radha's students. Or the actors in Radha's play. It is such a joy that although some characters are provided fewer than ten lines, they pop and we remember them. Here is a film that leaves a strong impression.
We are provided a clear vision of what's important to Radha. Surface viewers will claim her play belongs on this list while thoughtful viewers might say otherwise. The play, originally about how gentrification has affected black lives in Harlem but has morphed into something else for the sake of appealing (read: being more palatable) to the masses, is but a product of Radha's artistic expression. Blank commands the camera in such a way as to focus on the character's detailed facial expressions thereby emphasizing that Radha finds pleasure—no, exhilaration—in the process. The joy of work and working. The value of creating. The reward of living up to one's potential or promise… outside of receiving a "30 Under 30" award.
The work goes on like this. Those who sign up to be entertained will be entertained; those who wish to peer into a life of a person will recognize the great wealth she has. For instance, observe how Radha's students regard her. Although it is no secret that their teacher has not produced anything "substantial" in almost ten years, in that classroom she is the apple of their eye. They look up to her because even though she carries a deep sadness, and I think a few of them have picked up on it, she works hard to to evince a positive, welcoming energy. Many amusing exchanges (and confrontations) occur in that classroom, but it is a haven for those students.
Is RadhaMUSPrime any good? You have to see for yourself. To make a mixtape, Radha collaborates with a twenty-six-year-old music producer named D (Oswin Benjamin). The connection is amusing, refreshing, surprising, and revealing. The material could have easily gone down a romantic comedy route but refrains; it is far more sophisticated and understated than that. Confident, smart, and human every step of the way, I very much look forward to what Radha Blank will come up with next. I hope it's just as beguiling.