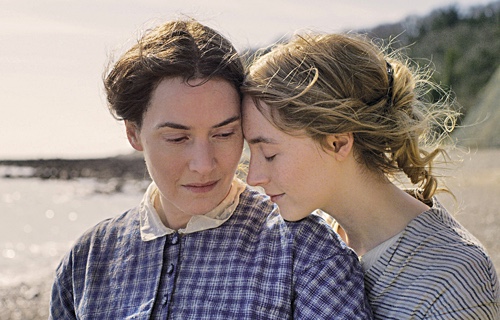 Ammonite (2020)
★★★ / ★★★★
There is something about the deliberately dry 19th century lesbian drama "Ammonite" that piqued my interest. Writer-director Francis Lee, particularly during the film's first hour, appears to be on the warpath to deliver the opposite of what we expect a seaside romantic picture should be like. Notice how it is mostly stripped of bright colors; bare walls, ceramic figurines, bedsheets, fluffy undergarments, the sand on the beach are as pale as the faces of our depressed subjects. The score is used sparingly; in its place are sounds of nature like waves crashing against the rocks, hungry seagulls singing, a gust of wind gathering power. When people speak, their voices must not surpass a certain decibel.
Repression is in every pore of this enigma, a story loosely based upon the life of paleontologist Mary Anning (Kate Winslet) who did not receive the credit she deserved, like correctly identifying the first ichthyosaur skeleton, for most of her career precisely because of her gender. When her romance with the married Charlotte Murchison (Saorise Ronan) is not front and center, we follow Mary's day-to-day activities of scouring the windy shore for fossils and seashells when the tides recede in the morning, minding the shop for tourists with coin to spare, taking care of her ailing mother (Gemma Jones), and staying up late to create knickknacks to be sold in the shop.
Look closely at how Mary handles her daily work. It may be dull or empty to us, but Winslet is aware of the character's entire being—how her hands handle rocks, the energy in those arms as she cleans utensils in the sink, the manner in which she puts on clothes when she is dead tired due to yet another sleepless night, down to how Mary's breathing changes when there is a threat to her routine being derailed. Our protagonist is fiercely passionate of her work—so passionate it seems as though she has lost the ability to interact with others.
Yes, Mary is poor and others who surround her in the coastline of Lyme Regis are financially privileged. But it goes beyond that; they wish to know her on a deeper level, like the well-meaning Dr. Lieberson (Alec Secăreanu) who amuses by constantly walking on eggshells, but the wall she built around herself has robbed her of friendship, joy, happiness, contentment. There is no question this woman has been hurt before. We wonder about the circumstances, and I admired that the material provides only morsels of an answer. Like Mary who excavates fossil fragments, it is most appropriate that we, too, must put together the pieces of her personal life in order to make sense of the whole. And sometimes certain pieces are never found.
Regarding the romance between Mary and Charlotte, it is beautifully handled. The chemistry between Winslet is Ronan is curious because there is almost a… maternal quality about it. No, I am not referring to the gap in the performers' ages. It is in the feelings the characters evoke, that their relationship feels as though it is rooted in them wanting to protect each other from further hurt and misery. In Charlotte's eyes, the brilliant Mary does not get the recognition as her male counterparts because 1) she is a female in a British society that values men and 2) Lyme isn't exactly an epicenter of culture. In Mary's eyes, radiant Charlotte is treated by her husband (James McArdle) as defective for having a "slight case of melancholia." He couldn't get rid of her fast enough and so he hires Mary to look after Charlotte while he goes on an expedition.
Another quality I admired is the picture's frank depiction of sex scenes. This is not the kind of movie where a scene builds to a passionate kiss and the camera pans away as if to "give respect" or "allow privacy" for its subjects. The camera stays in Mary and Charlotte's most personal moments; it dares us to bear witness to their lust, love, and affection. Because we see them at their most vulnerable, they are not invisible.