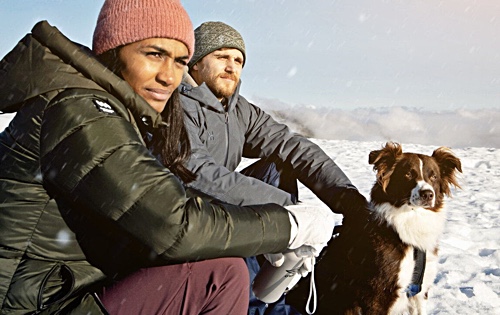 Red Dot (2021)
★★ / ★★★★
Pieces fall into place so neatly. We are introduced to a young couple, David (Anastasios Soulis), a recently minted engineer, and Nadja (Nanna Blondell), an aspiring doctor. We meet them at the former's graduation when the relationship is fresh, fun, and exciting; they cannot get enough of one another. Suddenly, we are met with a title card stating that a year-and-half had passed. The relationship has strained—marriage is not what they imagined it to be. For a while, the movie appears to be a romantic drama. We learn about a little bit about David and Nadja's home life and why they feel the need to get away and rekindle what they have. We spend only a short time in their apartment and we cannot help but to feel suffocated, too. However, "Red Dot" is not a drama. It is a survival thriller set in the cold and bitter wilderness with an ace up its sleeve.
The film is written by Alain Darborg (who directs) and Per Dickson, a duo of expert manipulators. By providing an expository sequence so ordinary, we are lulled to sway along a certain rhythm and by the time the rising action comes around, we are nailed into a specific wavelength. Consider the drive up the mountains when David and Nadja stop at a gas station and encounter two hunters. We are not provided much regarding the strangers: they have rifles, they look provincial, and they drive a truck with a reindeer's head in the back. One of the hunter's sense of humor is rather… uncultured, somewhat offensive, as if David and Nadja needed to be reminded that they're an interracial couple.
The writers urge us to make assumptions. And because we have seen numerous movies in which protagonists from the city cross paths with rough characters who live in the middle of nowhere, we think we know where the movie is heading. In many ways, we will be right on target: the couple will admire the beauty of their surroundings, they will have fun for a while, and they will be reminded of the reasons why they choose to be together. Just when their emotional reunion reaches a climax, they will find themselves in a terrifying situation.
While admiring the northern lights, they notice a red dot moving about their tent. Someone is watching them. Although their tent sits on a clearing, it is the dead of night. Surely it must be some sort of sick prank. Or that's what they want to believe. These two are not blameless. Deep down, they know they should not have escalated the situation with the hunters.
And so it goes on like this for a while. It feels as though the material is simply going through a checklist of what we expect to experience in a survival thriller. But I say the approach wears out its welcome eventually. There are not enough creativity and fresh choices placed in between the signposts which allow the work to stand out among its contemporaries. Instead, it is too reliant upon a third-act twist to get viewers, who may have long checked out, to be invested again. The best thrillers are consistently curious all the way through despite familiar elements. This one appears to have put all its eggs in one basket. And the gamble doesn't quite pay off.
Darborg and Dickson wish so badly to blindside their viewers that they overlook the importance of pacing. Notice how the movie lumbers about when David and Nadja attempt to survive the cold on top of their nasty injuries and increasing exhaustion. This should be the picture at its most thrilling and unpredictable. By the time the shocking plot development rolls around, it comes across rather anticlimactic. It is a missed opportunity because this particular angle is used only to shock, never explored in thoughtful or meaningful ways. Not to mention that the morality it imparts is most generic.