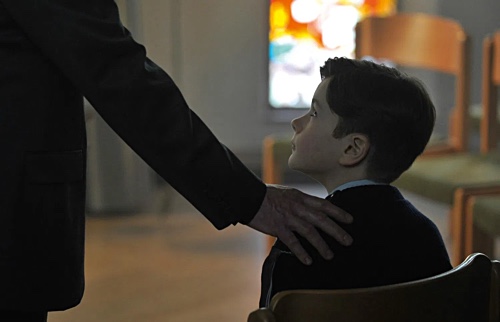 By the Grace of God (2018)
★★★★ / ★★★★
Writer-director François Ozon takes real-life stories of adults sexually abused as children by a priest and fictionalizes them in order to make a cohesive whole in "By the Grace of God," both a ruminative and angry film that demands justice and change from the Catholic Church. Although it possesses a dramatic core, it is fascinating that humanist filmmaker Ozon chooses at times to tell the story as if it were in fact a documentary by simply following the traumatized victims through their day-to-day lives in hopes of eventually connecting with the right persons of authority—within the church, the government, the media—to prevent future molestations of children in the hands of Catholic priests. It is told with clarity, confidence, and purpose.
Although hundreds of boys were sexually abused by predator Father Bernard Preynat (Bernard Verley), we meet three men who were in his care from 1988-1991: Alexandre (Melvil Poupaud), father of five whose faith touches nearly every aspect of his life; François (Denis Ménochet), an atheist who has kept his guilt and trauma under wraps for so long that upon hearing legal action is actually being taken against Preynat, we come to witness a man with a renewed sense of purpose; and Emmanuel (Swann Arlaud), a man with an IQ of 140 but suffering from a physical deformity linked directly to Preynat's abuse.
We spend equal time with each of these men—and their home lives—and so we get a complete picture of what the legal battle means to them personally and as a unit. We even come to meet some of their aging parents; not all of them support the idea of going after the church because their faith is deeply ingrained in their identity. To them, why bother excavating what happened 30 years ago? After all, the statute of limitations has already passed. It must no longer be relevant or important. Just move on. Ozon makes the point that it is important to include such perspective in this story because embracing certain attitudes may be a contributing factor as to why there remains no justice to many men and women who have been abused by priests. These predators continue to be around children with impunity. Their "punishment" is simply being moved to another location, free to ruin another child's life.
The director is not afraid to place a monster in front of the camera, and he dares us to stare at the subject's face, his body, his movements, whether or not he looks at his victims in the eye. Not fifteen minutes into the picture, Preynat is front and center admitting, in front of a church official, that he did in fact molest Alexandre as a boy and in under what circumstances. Details matter and this work treats the viewers like mature, intelligent, and thoughtful adults; never is an opinion or insight painted in black and white. Even those who disagree with the victims' methods of garnering media attention in order to pressure the Church. And so it leaves us room to contemplate and consider where a person might be coming from.
The greatest strength of "By the Grace of God" is its willingness to paint every character as a living, breathing person who is complex, full of inconsistencies, fears, insecurities, and redeeming qualities, too. It is impressive that all of the performers possess a story in their eyes. The writer-director shoots scenes so organically, there are instances when it feels like we are sitting in a room where we shouldn't be. The picture is raw, direct, and worthy of the subject being explored. It is not interested in sentimentality.