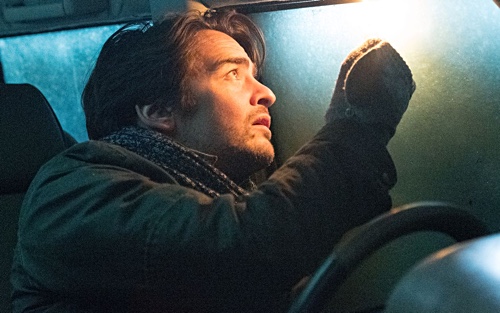 Centigrade (2020)
★ / ★★★★
Survival thrillers that take place in an enclosed space can be especially tricky to pull off as demonstrated so clearly in "Centigrade," a movie that lacks tension, creativity, humor, horror, or even a lick of common sense. It was supposed to be written by two minds—Brendan Walsh (who directs) and Daley Nixon—and yet the ninety minutes is such an ordeal of boredom that one would be confident to wager that the screenplay was drunk-scribbled by someone who had a quarter of a brain and half of that quarter was malfunctioning. I couldn't wait for it to be over so I could start something productive like run errands, exercise, or sleep. Here is a cure for insomnia.
Naomi (Genesis Rodriguez) and Matt (Vincent Piazza) wake up in their vehicle to discover that none of the doors would budge. The night before, they decided to pull over to the side of the road because the awful blizzard combined with the dark made it difficult to see where they were going. It could have been a savagely amusing twist on the phrase, "Better safe than sorry," but the work is blind to irony. This is a premise with potential: two people whose relationship will be tested by an impossible situation. However, the material fails to evolve over time. Once the basic premise is laid out, the film becomes a waiting game: will the couple try to get out or simply wait for rescue?
The former is the more interesting angle because characters are forced to take action. It is not enough to introduce characters, show their situation, and let the viewers' imagination fill in the rest. Consider a picture like Rodrigo Cortés' "Buried" which centers around a man who is buried alive in a coffin. A lot happens in that one location because the character is written in a proactive manner. It isn't that he is especially smart or resourceful; sometimes the lightbulb in his head is born out of desperation. Although he can communicate with the outside world, there remains an increasing sense of unease. We cannot help but to laugh at times because his situation becomes increasingly hopeless. In this film, Naomi and Matt are dead dull. They argue, scream at each other, give out pointed looks, and the like. They have attitude to spare but neither bite nor substance.
The writers fail their characters on two fronts: by not writing them as sharp protagonists and by not putting them through a wringer. Instead, the duo sit in the car and mope. Eventually, they are supposed to be dehydrated and yet their lips aren't the least bit chapped. It creates a depressing experience rather than one we cannot help but watch. Even the pregnancy angle offers no suspense or excitement. When the predictable birth scene arrives, it isn't even shot correctly. Yes, the vehicle is cramped. But there is no excuse for not finding the best angle so that viewers are on the edge of their seats, wanting to know whether the infant or Naomi will survive.
Had the screenwriters taken a real good look at the material, they would have realized that the story is about a doomed marriage. One is a drug addict and the other is oblivious to the fact (perhaps by choice). The survival thriller aspect is surface level drama. The excavation of their secrets, what they love and despise about one another, and how they deal with problems when things are at their bleakest are the meat and potatoes. A unique, odd, or quirky situation is not drama. It can lead to drama. But work must be put in so that the story can take off.