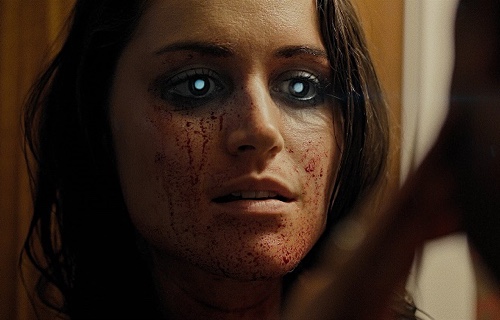 Hosts (2020)
★ / ★★★★
Writer-directors Adam Leader and Richard Oakes attempt to tell a home invasion story with a supernatural twist. While the intent of delivering originality is commendable, the work fails to take off in interesting and unexpected directions. If you simply wish to see a person's skull get smashed into pieces by a hammer, go see this. Or perhaps watching someone get stabbed fifty times is more your cup of tea. It is brutal, yes, but let me tell you that the picture is just violent: it is without substance, intrigue, or sense of mythos. On offer is an empty, boring experience. Skip to the final paragraph for an alternative.
Perhaps the film's most crucial mistake is that it fails to be about anything. Just because things are being paraded on screen does not mean that images are of value. There must be connective tissues that tie these images together. Themes behind such connective tissues must be ironed out. Especially in the horror genre, the work must inspire us to contemplate that maybe what it is actually about is not necessarily what we see but what it makes us feel about ourselves or what it forces us to consider about our environment, our society.
Consider, for instance, that the story here takes place during Christmas. Traditionally, Christmas is a time when family members get together and catch up, for better or worse. Thus, exploring the subject of alienation is a layup. I would even go as far to say that it is obvious and expected.
The home invaders being possessed by a spirit, demon, or whatever supernatural entity (the screenplay failed to clarity this) could have functioned as commentary about being forced to get together and socialize, to compare notes and lives. The holidays is supposed to be a joyous time… but at the same time some people feel the need to wear a mask in order to come across as more successful or impressive. Others pretend to be happy even though they are far from it. No one wants to look bad or to feel small. And so that observation should have been channeled into anger on film.
But viewers fail to feel that—or any genuine emotion—because the work puts more effort into making blood and guts look realistic or cool and making light emanating from characters' eyes and mouths look creepy. The technical details mean nothing if what should be concrete ideas remain amorphous throughout the picture's running time. The movie is barely ninety minutes but it feels closer to two hours—and that's being generous.
I would say watch Michael Haneke's 1997 "Funny Games" again (or for the first time)—it is a terrific example of how you make a home invasion movie that is about something. It is violent, realistic and raw, but it demands that viewers not be passive about their experience. "Hosts" does the opposite: it ends up lulling viewers to sleep because it goes under the assumption that those watching are there only to see violence and effects. In actuality, horror fans sign up for an experience. There is a difference, and this turkey seems unaware of it.