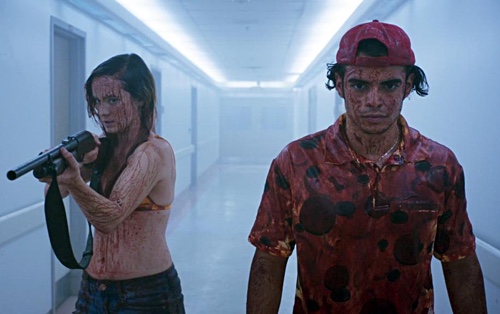 Game of Death (2017)
★★★ / ★★★★
Although the cryptic item in "Game of Death" is a board game, I believe the film wishes to contradict the asinine idea that video games lead to violence—exactly by delivering content that is violent by nature as to underscore the point it aims to get across. The movie is bloody, borders on satire, very funny on occasion, and at times purposeful in making viewers feel uncomfortable. Yes, the horror is embedded in the gruesome kills. But the horror, too, lies in the fact that we as a society would rather place blame on art—like video games—or politicizing an urgent issue rather than looking in the mirror, taking responsibility, and evaluating how we can better ourselves not simply through prayers but by means of actionable policy.
The connection between board games and video games is established right from the opening credits, from the pixellated and colorful graphics to sound effects that bring to mind games from the NES and SNES era. There is even a montage in the latter third, specifically when select characters go on a killing spree, in which the movie steps away from live-action and dives into what appears to be a series of quirky 2D role-playing video games. It is creative and cute, but at the same time it is energetic and it is obvious that directors Sebastien Landry and Laurence Morais-Lagace are purposeful in what they wish to show and when.
But what the work wishes to communicate does not stop there. I think it also has something to say about white lives and white privilege. Coming off the opening credits we meet teenagers hanging out in a well-to-do suburban home, no parent in sight. They are sexualized, they do drugs, they call each other derogatory names (but are pet names to them); notice how the first few minutes is shot like a music video… and almost like softcore pornography at times. The images, the dialogue, the way the characters are dressed (or not dressed) are so over-the-top that the whole thing incites judgment.
Superficial viewers will decry, "These damn millennials! Bunch of do-nothings! *grumble grumble*" But that is only part of the point. The purpose is to instill a distinct impression so that when these fun-loving, lustful teenagers come across the board game ominously named Game of Death—a game that requires those who have chosen to participate to kill a certain number of people under a time limit or end up having their own heads explode at random—we believe we have a strong sense of who they are and thus can place each of them on a moral spectrum, such as who will decide to partake in murdering innocent people, who will refrain, who will bite it first, and who might change their minds.
A strong impression paves a way for efficiency, especially in a work that possesses satirical elements, which is critical in a movie that is barely an hour and ten minutes. There are seven characters here and there is no way to get to know them thoroughly (Sam Earle, Victoria Diamond, Emelia Hellman, Catherine Saindon, Nick Serino, Thomas Vallieres). So the approach must be broad but at the same time pointed enough to provoke a powerful emotional reaction—if that's disgust, aggression, or waspishness then so be it.
Out of the seven, only one is a person of color (Erniel Baez). Tyler does not kill to save himself. Most of the others, who are white, decide whether it is all right to kill a friend, a creepy neighbor, a random stranger who appears at a wrong place and a wrong time (is it a sign?), an elderly person who is otherwise healthy, people who are sick or dying, and even an innocent child. They look at others and think, "How are their lives of value compared to mine? Should I take their lives so I can go on with mine?" Look at how the police never seems to catch up with the perpetrators.
It is without question that "Game of Death" is rough around the edges. Some of the dialogue on paper could have undergone more polish. Even some of the line deliveries ought to have been reshot. But I think the movie can be visually exciting and it is propelled by infectious energy. I couldn't help but to recoil a little when a head was about to explode. It shows us in vivid detail how a head gets so swollen that looking at it becomes uncomfortable. When it pops like pimple and all the brain meat/juice slosh out and spray about, it is almost like a sigh of relief.
If you consider yourself to be an adventurous viewer, take a chance on this. It just might rub you the right way. If it doesn't, well, at least you've seen a film in which the filmmakers are all in.