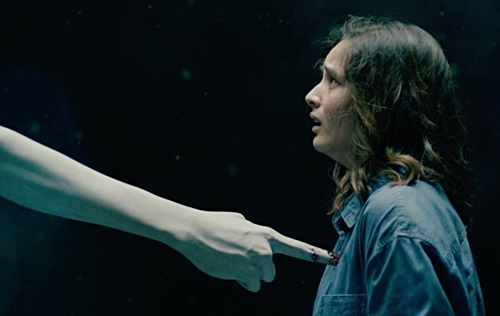 May the Devil Take You Too (2020)
★★ / ★★★★
Writer-director Timo Tjahjanto takes his sequel to "May the Devil Take You" in an interesting direction: Underscore the relationship between Alfie (Chelsea Islan)—our heroine and one of the survivors from the first feature—and the Devil in a way that promises there will more terrors to come after this installment. The reason why this chapter must exist is clear. Alfie has had extensive experience in dealing with what's beyond the human realm. Such encounters tend to stick to her like a curse. She can save herself, her family, and strangers who ask for help. Although she is able to triumph in individual battles, is there actually a chance for her to win the war?
I enjoyed this follow-up a bit more than the original because I felt it is more ambitious with its ideas. Alfie is no longer the girl who just so happens to have a father who sacrificed his daughter's soul to quench his greed. She is now a symbol, an example, and perhaps even hope of outsmarting the Devil in its own twisted game. Islan's Alfie here is not only more confident, she is a fighter: for herself, for her little sister Nara (Hadijah Shahab), and everyone else who find themselves haunted by the beyond due to an adult figure making a similar deal with the Devil.
The setup is perfunctory but it does the job. A group of young adults who used to reside in the same orphanage kidnap Alfie and Nara. Some of them are convinced that Alfie may be able to stop an evil spirit from claiming their souls. The apparition is named Ayub (Tri Hariono) and he craves revenge. The children he abused murdered him and left his body in the cellar. Just like the previous film, this story unfolds in one place—an orphanage of physical, mental, and sexual trauma. None of the characters are well-adjusted; they're barely even functional.
It is quite astounding that there is only a two-year gap between the release of the original and the sequel because the special, visual, and cosmetics effects are far more advanced here. Perhaps it is due to having a higher budget, but I wouldn't put money on it. We've seen time and again that all the money in the world is no substitute for old-fashioned craft. I think Tjahjanto studied the first outing closely and took notes of elements that could be improved upon.
For instance, women with long, black hair wearing white gowns is so often used in Asian horror. At this point, it's tired and dated. But look at how Tjahjanto handles them here. Instead of placing emphasis on the whole body, how it moves down hallways and the like, focus is from the chest upwards. The horrifying make-up, occasionally mixed with CGI, coupled with exaggerated facial expressions create terrifying, claustrophobic encounters. This is also a bit quieter than the original so there is more room for creepy, goosebump-inducing moments.
What prevents the picture from functioning on another level is, like the predecessor, a lack of convincing human connections. For example, Alfie and Nara's interactions are often shallow reminders that they're sisters. But we already know that. What else is there to their bond? How has their relationship evolved ever since the events in the first movie?
As for the orphans, there are far too many of them. Although we get the sense that a few are closer than others (like Budi and Leo, the suicidal and the alcoholic played by Baskara Mahendra and Arya Vasco, respectively), it is never shown to us how close they are as a collective. In a horror movie with a handful of characters introduced at once, it is paramount that the screenplay be thoroughly efficient in getting us to care about as many of them as possible. Otherwise, they're just sheep to be gutted. At least majority of the practical effects are on point.