Short Reviews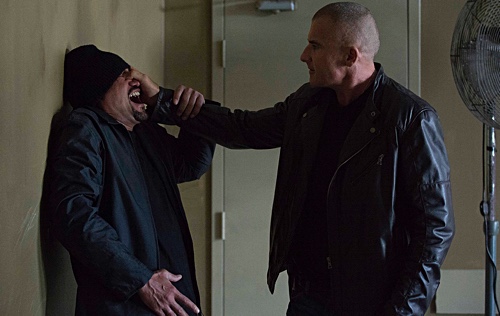 Gridlocked (2015)
★★ / ★★★★
High body count action-thriller "Gridlocked" delivers the expected from the genre, but it falls flat nearly every time it tries to pull off a surprise. The premise is cheeky: narcissistic and troubled movie star (Cody Hackman) who assaulted a paparazzo is assigned by the court to shadow a cop (Dominic Purcell) as good faith that he means to change his ways. In reality, it is a PR strategy to keep the actor out of jail so he can continue making his next blockbuster. The serious cop and flashy clown pair is nothing new, but screenwriters Rob Robol and Allan Ungar (who directs) go for the laughs and commit to them even though a good number of jokes are made-for-TV fluff. At first, the cop is not keen on babysitting but the more the duo spend time with one another—well, you know how it goes. The centerpiece is the action: a mysterious shadow group (Stephen Lang) breaks into a police training facility for… something not worth waiting for; the picture takes more than half of its nearly two-hour running time to reveal the motivation of its standard slithering villain. Action sequences are occasionally well-choreographed and exciting. Although there is no convincing danger, I found myself wishing to know what would happen next. Comic touches which set the initial tone are relegated behind loud and busy shootouts eventually. And when they do return to the foreground in the action-heavy latter half, they feel out of place. There is an undeniable lack of discipline in tone.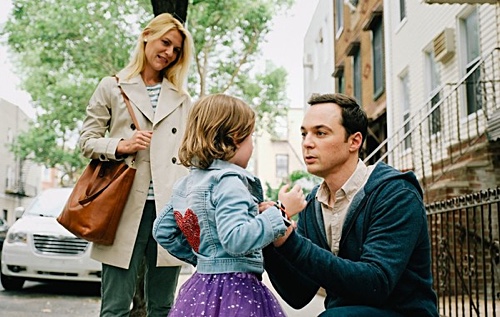 A Kid Like Jake (2018)
★★ / ★★★★
With a title like "A Kid Like Jake," it is reasonable to assume that the movie will be about parents who must come to terms with their child's nature. Specifically, it is brought to Alex (Claire Danes) and Greg's (Jim Parsons) attention that perhaps their four-year-old son (Leo James Davis) is showing signs of being "gender-expansive." Jake prefers to play with dolls and princess dress-ups than he does sports or superheroes. In actuality, however, the child's sexuality or gender is not what this film is truly about. It is about parents who must deal with their own fears or concerns regarding 1) having to raise a child in a society that doesn't really understand—or care to understand—what gender identity means, 2) their feelings of inadequacy—what they did or didn't do, if they could have done things differently as to prevent "confusing" Jake about his gender and 3) the boy not having a spot in private school that could foster his potential. The movie is well-acted, its heart is in the right place, and it does reach a few compelling moments when characters clash while the camera is right there mere inches away from their expressive faces. We feel the unsaid words behind their eyes. But the movie lacks subtlety, even common sense at times. For instance, the couple's state of conflict is rooted upon how they perceive their child and yet there is not one convincing moment in which a case is made that a boy preferring traditionally feminine toys or a girl preferring traditionally masculine toys does not have to mean anything at all. Maybe, just maybe, parents nowadays, especially those who come from privileged backgrounds, tend to overanalyze. When basic facts are ignored in what is supposed to be intelligent and thoughtful drama, it is a house of cards. Based on the play and adapted to the screen by Daniel Pearl. Directed by Silas Howard.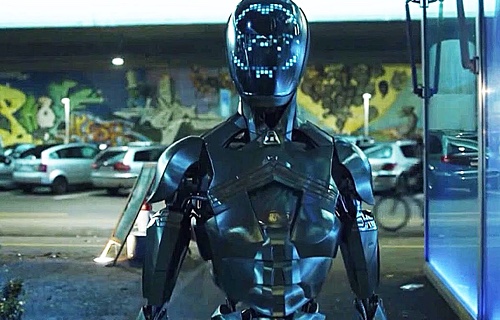 Singularity (2017)
★ / ★★★★
Here is yet another movie brazen enough to end without a third act, but that is the least of its problems. Robert Kouba's "Singularity" tells a story that involves machines directly causing the eradication of humans with the help of an inventor (John Cusack) who wished "to solve all the world's problems" using advanced artificial intelligence, but it is far from an engaging morality tale with the necessary highs and lows, twists and turns, and bitter ironies. Instead, we experience the once populated planet through the eyes of a bland young man named Andrew (Julian Schaffner) who miraculously wakes up 97 years after the A.I. takeover. In the middle is a deadly dull the romance between Andrew and Calia (Jeannine Michèle Wacker), a survivor in search of the last human outpost, but the couple is not at all interesting together or apart. We are introduced to the strong and independent Calia, only to soften and wilt once in the arms of Andrew. Prepare to roll your eyes and to check your watch constantly. The painfully slow pacing of their so-called courtship brings to mind movies designed for tweens which contrasts greatly against what should be an intelligent and urgent parable. Its emotions are as fake as the laughable computer generated explosions we encounter during the picture's generic opening minutes. Written for the screen by Robert Kouba and Sebastian Cepeda.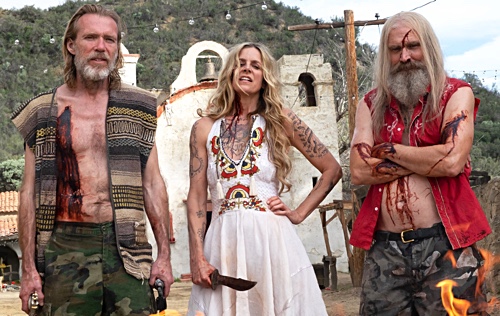 3 from Hell (2019)
★ / ★★★★
The third—and hopefully last—entry in writer-director Rob Zombie's "Firefly" trilogy looks and feels like a swan song. Fourteen years has passed since the second installment and this film's rickety old bones can barely sustain the already skeletal plot. What results is a horror movie that spends nearly half of its two-hour running time spewing tedious exposition surrounding Baby's (Sheri Moon Zombie) experiences in prison and eventual escape in order to join her equally murderous brothers (Bill Moseley as Otis, Richard Brake as Winslow). Sure, it delivers the expected violence and gore, but the filmmaker made the incorrect assumption that the fans of "House of 1000 Corpses" and "The Devil's Rejects" did not mature. Wouldn't it have been too much to deliver something unexpected, something other than constant noise and mayhem? Because it is apparent during the first fifteen minutes that Zombie is capable of so much more. For instance, I enjoyed the recreation of '70s news reels and there is some morbid energy put forth in reminding the viewers of the subjects' monstrosity—evil personified. But the rest of the work feels unnecessary; Zombie did not even have the sense to realize that the story has ended around the seventy-minute mark. The rest of the time offers nothing of value, no consequences.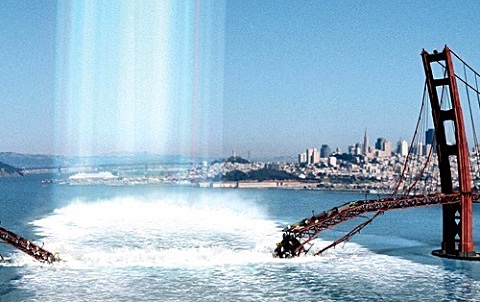 The Core (2003)
★ / ★★★★
Science fiction films need not be both fiercely intelligent and savagely entertaining, but director Jon Amiel's "The Core" is neither. It boasts a running time of one hundred thirty minutes, but the experience feels at least twice that. The reason is because the movie appears to be content in being a flat, soporific exercise in visual pageantry. It has aged like milk—a good example of why strong ideas and execution must take precedence over flashy special and visual effects. Consider: the story involves an apocalyptic situation—the Earth's core has stopped spinning which has led to bizarre occurrences such as 32 people dropping dead at the same time, sudden violent swarm of birds enveloping London, superstorms causing unimaginable devastation in Rome. And yet despite all the razzle-dazzle, the movie lacks genuine excitement, tension, or horror. We are supposed to be seeing the end of the world, but our expressions do not change. An exception is when we cringe at the terribly cliché dialogue between scientists and astronauts. Surely it takes considerable effort to make smart people sound dead dull and stupid. There are at least three instances in which I guessed the next line to be uttered word-by-word. (Even the jokes fall flat.) Words shared among the characters are meant to be forgotten the moment the next scene begins. And so when they meet gruesome fates during their journey to the center of the planet, we cannot be bothered to care. Starring Aaron Eckhart, Hilary Swank, and Stanley Tucci. Based on the screenplay by Cooper Layne and John Rogers.