Short Reviews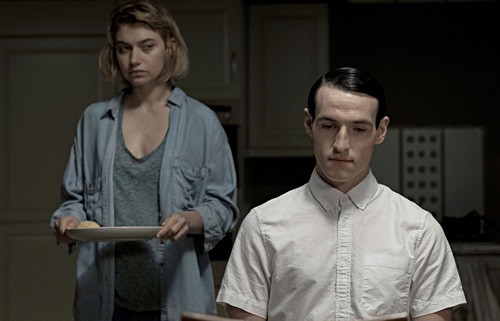 Vivarium (2019)
★ / ★★★★
The suburbs is where people go to settle down and die. That's the metaphor behind "Vivarium," a twenty-minute short film stretched to a hundred painful minutes which results in annoyance and pointlessness. By the end of it, I wanted to scream into the ears of director Lorcan Finnegan—exactly how one of his characters belts out a shrill scream when it experiences frustration. Imogen Poots and Jesse Eisenberg—who share minimal chemistry—portray a young couple looking to buy a home but find themselves trapped in the labyrinthine housing development called Yonder after the real estate agent, Martin (Jonathan Aris), disappears during the tour. This picture is evidence that a good idea can go nowhere fast when the screenplay fails to dig deep; there is a skeletal story and nothing else. Instead, heavy-handed (and obvious) symbolisms are thrown onto our laps—laziness masquerading as "creativity." I didn't buy it and neither should you. Certainly there are creepy moments, like when Gemma and Tom discover an infant in a box that comes with instructions and how houses, streets, and clouds look identical, but these are not enough to keep the material afloat. The question comes down to this: What is it about suburbia that sucks the life out of its inhabitants? The routine? Boredom? Homogeneity? A sheltered existence? There is setup but no punchline. What is the point of telling this particular story and why is it worth telling? Based on the screenplay by Garret Shanley.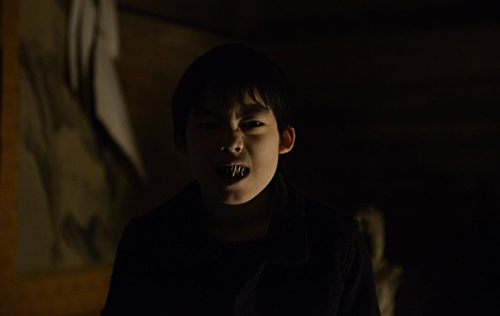 The Temple (2017)
★ / ★★★★
Upon first glance all the ingredients are there to make a curious horror film: a solemn-looking protagonist with a mysterious past, a trip to a foreign country, coming across a creepy journal in a mom-and-pop shop, locals warning that the contents scribed on the pages is bad news so never pursue it, urban legends involving monks and missing children… Yet these do not come together in a way that is suspenseful, sensical, or satisfying. Instead, it feels like were are stuck on this trip to Japan with three bland Americans—best friends Kate (Natalia Warner) and Chris (Logan Huffman) along with James (Brandon Sklenar), Kate's boyfriend who also happens to be a womanizer—with nothing interesting to do or say throughout the picture's interminable eighty-minute running time. It isn't because the performers share no chemistry nor is it due to the unconvincing acting. The work suffers from a basic screenplay problem: Instead of building upon the details of its mythos, which should function as the connective tissue between major plot points, it spends far too much time putting the characters in tired situations: getting lost in the woods, getting lost in an abandoned mine, getting lost in their emotions as to how they really feel toward one another. (Chris kinda-sorta likes Kate but she's unavailable; James claims that Chris is not what he expected—whatever that means; Chris admits he likes James but we suspect baloney—or is it?) It feels too much like a soap opera. And get this: The movie treats its third-act "twist" as if it were an eye-opening revelation. Cue the "Gotcha!" flashbacks. In reality, it isn't a twist at all—unless you've been born in a cave, lived there your entire life, and not seen a single horror movie.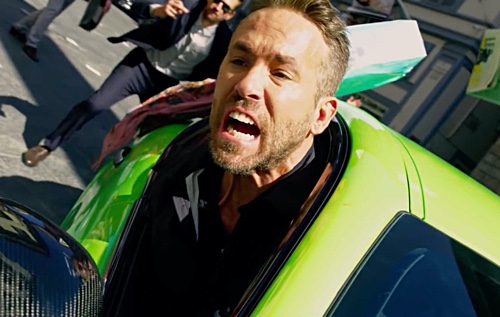 6 Underground (2019)
★ / ★★★★
Pointless, loud, and constantly on the move, there is no denial that "6 Underground" is a Michael Bay movie. I enjoyed the first fifteen minutes which features an extended car chase in Florence—on labyrinthine streets, through cafe dining areas, inside museums, with little regard for pedestrians—but it's a nosedive the moment we leave Italy. The story revolves around a vigilante group (led by Ryan Reynolds) whose goal is to rid of the planet of what they consider to be evil persons, groups, or organizations. This time, they set their eyes on a dictator of "Turgistan" for… generic reasons why a dictator is a very, very bad individual. The picture is so reductive with its politics that it is almost satirical. But this is no political thriller; it is an action-thriller. However, the action scenes are no good either in that they fail consistently to incite excitement. A case can be made that these sequences are anti-action: viewers are inspired to sit back and simply absorb images as if we had just undergone lobotomy. Production value is sky high: we visit at least three countries; cars are cut in half, explode, and crash onto one another; stuntmen crawl up and down skyscrapers like spiders; there is even a yacht that sinks. Despite this, there is no heft in whatever the hell is going on (if you can make sense of it). Reynolds' try-hard would-be comic one-liners are especially annoying when spouted in the middle of dead dull action. The experience at offer here feels worse than eating junk food because at least when you're eating junk food you feel happy until you get to the bottom of the bag. Co-starring Mélanie Laurent, Ben Hardy, Corey Hawkins, Adria Arjona, Manuel Garcia-Rulfo, and Dave Franco.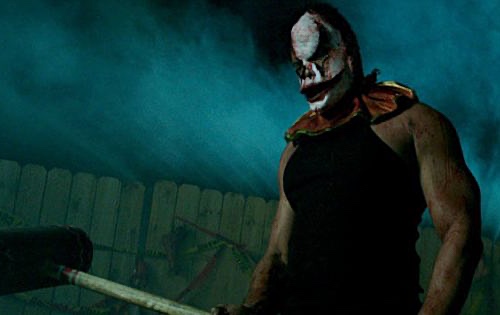 The Funhouse Massacre (2015)
★ / ★★★★
In the middle of this torturously slow horror-comedy, I wondered if director Andy Palmer and screenwriter Ben Begley intended to make a movie to be enjoyed only by viewers who are stoned. Sure, it offers some neat practical effects like throat slashing, beheading, and skull drilling, but there is no sense of joy, creativity, or real wit emanating from it. Since its focus is on things like how to make plastic look like human flesh and how to create convincing blood spurts, one is better off watching a documentary of artists who specialize in special effects. I bet they'd have something interesting to say. In this film, the humor is so try-hard, so forced, even Gregory Plotkin's "Hell Fest" is funnier by comparison—and that is a terrible movie regardless of the genre. One of the main problems is that every single character is written like he or she has only one brain cell and this neuron functions at half capacity. When confronted by a threat, not one person has iota of what to do in order to survive and so these potential victims are left running around like headless chickens. The filmmakers have forgotten that going through a haunted house or maze should be enjoyable, not a death march to the finish line. I hope the legendary Robert Englund, playing the warden of a mental facility that houses notorious serial killers, got paid well to appear in this junk. He should consider himself lucky that he's only in it during the first ten minutes. The rest of us had to stay and be insulted.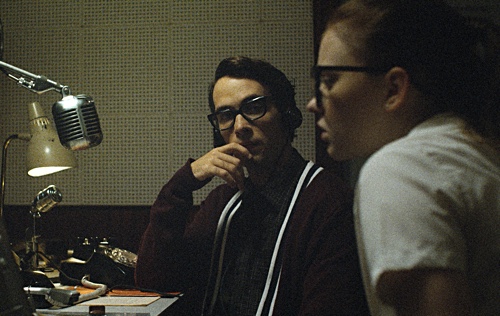 The Vast of Night (2019)
★★★ / ★★★★
The supremely confident directorial debut of Andrew Patterson tells the story of two teenagers in Cayuga, New Mexico who come across strange sounds through the radio while most of the town residents attend the first basketball game of the season. It is without compromise: dialogue-heavy, unfolding in real time, penchant for long takes, ostentatious (but accurate) in terms of embracing the 1950s milieu, and demanding viewers to adapt to its offbeat rhythm—there is no typical three-arc structure of storytelling to be had here. What results is a work that coaxes those looking in to catch up to it despite the fact that UFO stories have been done to death. It is anchored by two strong central performances by Jake Horowitz as the smooth cool local DJ Everett Sloan and Sierra McCormick as the plucky sixteen-year-old Fay Crocker. Fifteen minutes into the picture, I was reminded of films in the 1940s and 1950s where characters have real drive and personality; I wished to know more about this duo as young people with potential bright futures outside of the UFO plot. Even the supporting characters—an old lady (Gail Cronauer) and a voice via telephone (Bruce Davis)—command attention. This is a film in which words, sounds, and timing—together—is paramount; tension depends on the synergy among them. I look forward to Patterson's follow-up.