Short Reviews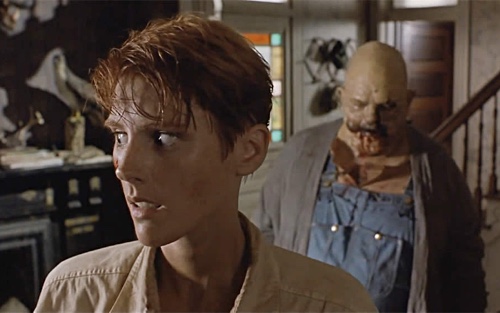 Night of the Living Dead (1990)
★★ / ★★★★
Tom Savini's "Night of the Living Dead" is a passable but far from a compelling remake of George A. Romero's classic. Given that the director is a wizard in creating prosthetic makeup, combined with a more sizable budget, the look of the undead here is superior to the original. Some zombies look like they died mere hours ago while others appear as though they've been rotting in their graves for weeks. When the camera fixates on a gash or a severed limb, we can appreciate the insides glisten with blood. Even facial deformities are gross yet inviting. On the basis of visuals, the picture delivers. However, Romero, serving as screenwriter, is hit-or-miss when it comes to making what is essentially the same plot—a group of survivors seeking refuge in a farmhouse next to a cemetery—feel contemporary. Although I prefer this mentally strong and badass Barbara (Patricia Tallman) as opposed to the original Barbara who spends the majority of the story in a state of fragility, arguments between Ben (Tony Todd), a survivor who snaps our heroine into shape, and Harry (Tom Towles), a cowardly man who prefers to hide in the cellar with his wife (McKee Anderson) and ailing daughter (Heather Mazur), are reduced into screaming matches without convincing emotion behind them. We are shown that the noise due to hammering from inside the house (it is decided that windows must be boarded up) ends up attracting the undead, but I'm convinced it is due to the senseless and interminable yelling and screaming. The most pronounced deviation from the original is the third act. Racial and political statements are stripped away. Surely racism existed in the '90s and is very much alive today. So why not take the opportunity to discern racism between the late '60s and early '90s? Instead, it leans on general observations when it comes to the living's monstrous nature toward things we do not fully understand or appreciate. It bears no teeth let alone bite.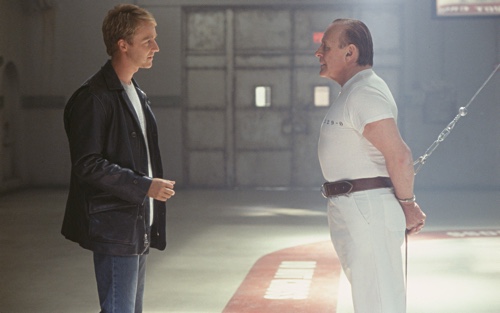 Red Dragon (2002)
★★ / ★★★★
Remakes must exude a purpose for existing. Brett Ratner's "Red Dragon," based on Thomas Harris' novel of the same name which was adapted to screen in 1986 by Michael Mann, only truly comes alive during the final fifteen minutes. The rest of it, while watchable mainly due to the terrific performances by Edward Norton who plays a retired FBI profiler Will Graham and the inimitable Anthony Hopkins once again stepping into his iconic role of Dr. Hannibal Lecter, is merely a polished retread of Mann's superior "Manhunter." One of the key differences between the remake and the original is that in the latter, Graham and Lecter interact more often. But it is curious that their exchanges do not necessarily reveal more in regards to their symbiotic relationship in catching serial killers—before and after Graham discovered that Lecter was the notorious Chesapeake Ripper who ate his victims. There is no tease, no seduction. What results is a movie that is longer but not more informative—at least in ways that count. At times I found that Ratner's film aspires to fill in some blanks that "Manhunter" left open for interpretation—a mistake because certain details, like specifics of a murder or crime scene, are better left to the imagination. Mann's film may be rough around the edges and the performances not as strong when compared to Ratner's picture. But the remake, while tolerable, fails to surpass the original because it comes across as yet another psychological thriller with minimal intrigue; everything must be shown or explained for the viewer out of fear that it may across as too oblique or strange otherwise. It is too safe when the material is far from it.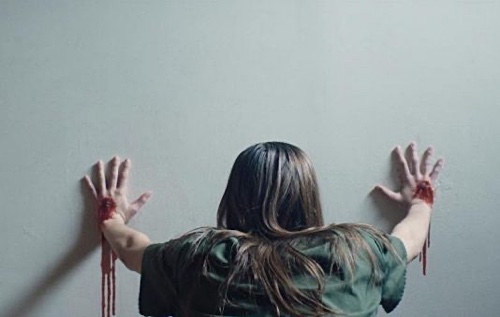 1BR (2019)
★★★ / ★★★★
Gated communities are meant to keep people out. In "1BR," written and directed by David Marmor, they're designed to keep people in. Executed with a specific vision and a whole lot of patience, the picture does not waste any time in making viewers feel off-balance. From the moment Sarah (Nicole Brydon Bloom) enters the Asilo Del Mar apartment complex for an open house, there is a creepiness to the community that's bubbling just beneath the surface. Residents are too smiley, too friendly, too accommodating—to the point where it almost feels staged, a charade. Bloom is terrific as a lonely young woman who has run away from a painful past, which involves her mother's passing from cancer, to try and make it in Los Angeles as a designer despite a lack of support from her father. There is a translucent quality to her face; when Sarah comes up with a specific thought or feels a certain emotion, it is right there for us to absorb. We sympathize with Sarah's yearning to connect and be accepted. (Her only friend is her cat named Gyles.) Bloom is someone to keep an eye on. Meanwhile, the picture comes alive about a third of the way through—almost thirty minutes in—when it is revealed to us what's really going on in the heavenly Asilo Del Mar. As our heroine is subjected to brutality and humiliation, we become increasingly angry for her and wish for her to fight back. But how can she when being a pushover is Sarah's nature? Although the work tackles the dangers of group-think and conformity on a superficial manner, it is consistently entertaining. This is a solid debut film. I look forward to what Marmor will come up with next because I feel he has even more twisted stories up his sleeves.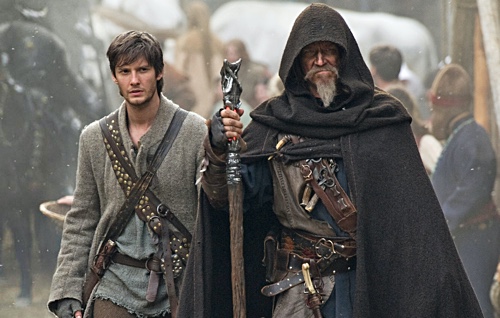 Seventh Son (2014)
★★ / ★★★★
If one signs up only for the scenery then "Seventh Son," loosely based upon Joseph Delaney's novel "The Spook's Apprentice," receives a most enthusiastic recommendation. It offers eye-catching vistas of verdant meadows, ominous forests, tranquil lakeside homes, perilous cliffs, a cloister hidden in the mountains, a walled but lively city burned to the ground. But outside the handful of terrific visuals, the story is a bore for the most part. It is correct for the plot to be straightforward: Master Gregory (Jeff Bridges), the last knight of his kind, is on a mission to end the life of a witch, Mother Malkin (Julianne Moore), who killed his apprentice of ten years (Kit Harrington). The journey toward the destination, however, is problematic: it is riddled with pesky asides, like a romance between Tom Ward (Ben Barnes), the new apprentice, and Alice (Alicia Vikander), a half-witch whose mother is loyal to Mother Malkin. I found most of the action sequences to be somewhat exciting and well-choreographed. But nearly every time the action dies down and the two lovebirds must exchange words and make physical contact, the movie screeches to a halt. It isn't that Barnes and Vikander do not share chemistry. A looming apocalypse is simply far bigger than whether or not they'll end up together. Perhaps a more crucial shortcoming: We never get a chance to appreciate the apprenticeship, what it entails outside wielding weapons and learning concoctions. As a result, the picture is like store-bought soup: if not without flavor, it is missing a memorable personality, spices that make the dish pop or taste special. Screenplay by Charles Leavitt and Steven Knight. Directed by Sergei Bodrov.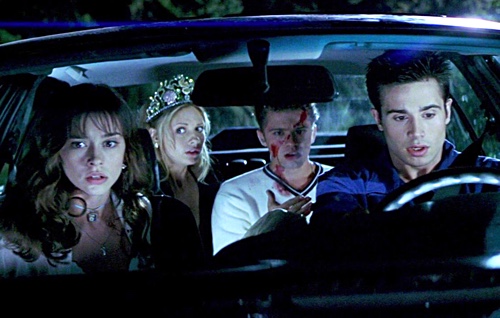 I Know What You Did Last Summer (1997)
★★ / ★★★★
"I Know What You Did Last Summer" is a parade of beautiful actors looking tormented in a wan, straightforward slasher flick. There is not one surprising element here worthy of strong recommendation. It begins with a moral conundrum: While on their way home from the beach, four friends (Jennifer Love Hewitt, Sarah Michelle Gellar, Ryan Phillippe, Freddie Prinze Jr.) accidentally hit a pedestrian on the highway. Do they take responsibility and call the police or do they get rid of the body? There is no movie in the former choice and so once all is said and done, the story jumps a year later when Julie (Hewitt), now a failing freshman in university, receives an ominous note suggesting someone had seen them commit murder. Sure enough, Julie's friends are killed one by one eventually—by order of importance: predictable, tedious. These scenes are not especially creative, memorable, or gruesome. I felt no glee from the filmmakers in wanting to entertain us. At least one or two chases are extended enough to create minimal tension. The work is based upon Lois Duncan's novel of the same name, but we learn nothing about the four friends other than their superficial traits: Julie feels the most guilt, Helen and her vanity, Barry the tough guy, and Ray the bore (we learn the least about him—an obvious red herring). Why should we care about these people? It is not enough that a man (or woman) in a rain slicker with a hook wishes to kill them. And, just like forgettable horror pictures, it has the nerve to set up a sequel with—you guessed it—a lame jump scare. Directed by Jim Gillespie. Screenplay by Kevin Williamson.